The latest issue of Oil Review Africa has highlighted the role of the digital oilfields which are expanding to encompass not only online reservoir management and other core processes, but potentially to assist in industry efforts to decarbonise in the years ahead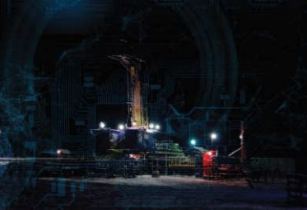 The rise of the digital oilfield — essentially combining business process management with digital technologies — is nothing new. (Image source: Adobe Stock)
New technology has opened up insights into oil and gas reservoirs that would have been impossible just a few short years ago. This insight can provide information into every aspect of an oil field, from discovery through to eventual maturity, helping to preserve the lifespan of an asset and improve its overall reliability and profitability.
The rise of the digital oilfield – essentially combining business process management with digital technologies – is nothing new, but it is an area that continues to evolve. The Covid-19 crisis has highlighted the need for greater flexibility and resilience across the oil and gas chain, and technology can play a key role.
Oil industry service company heavyweights like Schlumberger are also actively supporting operators in the field in Africa and other producing territories. It recently teamed up with AVEVA in a new project to integrate its edge, AI and cloud digital solutions to help operators optimise their oil and gas production.
"By integrating our domain expertise, secure edge technology and digital applications in the DELFI environment with AVEVA, we will enable customers to increase efficiency and transform their production operations," said Rajeev Sonthalia, president, digital and integration, Schlumberger.
Read the full article in the latest issue of Oil Review Africa