PGS has signed a MoU with Mit-PFN Energy Co (MPE) to jointly develop and commercialise artificial intelligence (AI)-driven solutions to image subsurface structures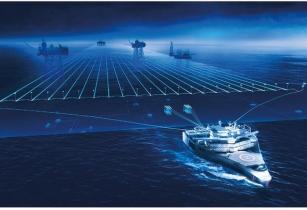 The collaboration aims to significantly reduce turnaround time needed to generate images of subsurface structures whilst improving accuracy. (Image source: PGS)
Analysis of subsurface images is required across the energy sector including oil and gas, carbon capture and storage, as well as areas in the renewable energy sector, such as geothermal energy and offshore wind power.
Under the terms of the agreement, PGS will contribute seismic data from its global MultiClient data library along with technical expertise, while MPE will lead the AI algorithmic development to be constructed within a modern, scalable compute infrastructure. The collaboration aims to significantly reduce turnaround time needed to generate images of subsurface structures whilst improving accuracy. It is the intention to apply the developed technology into clean energy businesses, contributing to the global effort to reduce carbon emission.
Artem Lytkin, vice-president, new energy business development of PGS, said, "PGS New Energy aims to accelerate energy transition by helping energy companies to effectively deal with subsurface risks as they execute on their energy transition goals.
"We seek to develop and deploy artificial intelligence methods to further strengthen our data processing and interpretation workflows."