The new N'GENIUS series of high-strength, austenitic stainless steels can transform how materials are specified and utilised across the oil and gas sector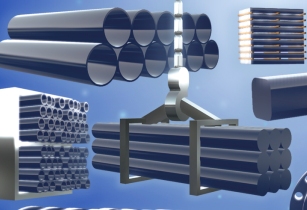 It is a reinvention of conventional austenitic stainless steels and has been specifically developed to out-perform the majority of existing grades. (Image Source: N'GENIUS)
It is a reinvention of conventional austenitic stainless steels and has been specifically developed to out-perform, supersede and supplement the majority of existing grades.
CV Roscoe, inventor of the original 25Cr super-duplex stainless steel and CEO of N'GENIUS Materials Technology, explained, "The extensive range of alloy types, variants and grades in the N'GENIUS Series have strength properties equivalent to duplex and super-duplex stainless steels, ductility and toughness levels normally associated with conventional austenitic stainless steels but with far superior corrosion resistance to suit all major oil and gas projects."
In terms of oil and gas production system design, the series has been developed to be the total system material solution. A vast array of wrought and cast products and equipment can be manufactured and supplied in the series for onshore and offshore oil and gas production systems.
Subsea umbilicals, catenary risers and flowlines, manifolds, subsea bundles, well heads, fittings, flanges, compact flanges, hub connectors and engineered products such as pumps and valves are among these products and equipment. As are fabricated products such as offshore topside systems including spools, modules, static risers, process piping systems, seawater cooling systems, firewater systems, filtration systems, heat exchangers and various ancillary equipment including tanks, vessels and structures.
The N'GENIUS Series of CRA line pipe grades are available in both seamless and welded product forms. Specifically, they will address the need for a much wider selection of corrosion resistant alloy (CRA) line pipe materials that are suitable in a wide range of service conditions and process media environments for all types of onshore projects and offshore projects in shallow, deep and ultra-deep water that can be installed using the various installation methods including S-lay, J-lay, Reel-lay and subsea Bundle installation techniques.
Perfectly suited for Oil Country Tubular Goods (OCTG) casing and tubing, the series helps overcome the dilemmas caused by elevated temperatures, high pressures and higher mechanical loads, whilst its improved corrosion resistance provides a robust defence even in harsh process media environments containing various levels of chlorides, CO2, H2S and other constituents. It also ensures the very best resistance to hydrogen embrittlement and, in particular, stress corrosion cracking (SCC) in aggressive media environments which can often be a major obstacle for OCTG.
For details, visit: www.ngeniusmaterials.com.