Intelligent Wellhead Systems Inc, a provider of innovative, automation solutions that transform oilfield completions operations, announced the introduction of Wellsite Watch, an application which provides digital, simplified personnel management for wellsite operations personnel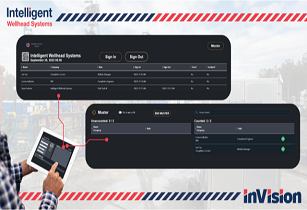 Digital check-in and -out through the application replaces days of clipboards and paper. (Image source: Intelligent Wellhead Systems)
It is the latest addition to the company's portfolio of digital technologies, further enhancing safety and efficiency at the wellsite.
Increased efficiency through mobile device using digital processes
Wellsite Watch is an application used for wellsite personnel management. The application can be accessed via personal device or tablet with an intelligent digital sign-in either directly via the application or by scanning a QR code. Digital check-in and -out replaces days of clipboards and paper. Data is seamlessly handled electronically with cloud backup and maintenance to provide a consistently up-to-date roster which can't be misplaced, promoting efficient personnel management.
Improved safety and compliance through digital acknowledgement and reporting:
Wellsite Watch incorporates digital health, safety, and environment (HSE) information and acknowledgement forms for easy sign-off keeping all in compliance and reinforcing a strong safety culture. Digital injury and hazard identification is also available through Wellsite Watch, making it easy to report and track injuries and hazards. Managers gain valuable insights into workforce safety performance and safety adherence, enabling data-driven decisions for process optimisation.
Improved personnel accountability instantly with digital access
In addition to daily reporting on personnel at the wellsite through digital check-in and -out, Wellsite Watch also provides a dynamic muster sheet in times of emergency providing an up-to-date view of the workforce present at the wellsite. Accounting for all during emergencies is imperative to keeping everyone safe. Intelligent Wellhead Systems' core mission is to transform the oil and gas industry through the application of advanced technology and execution-based solutions. By bringing service providers together, IWS is creating the future of completions operations making them safer, more efficient, and fully automated, all backed by unmatched support and innovation.