Global energy technology firm HydroVolve has launched GeoVolve HAMMER, a percussive drilling system set to cut well capital expenditure of geothermal wells by 50%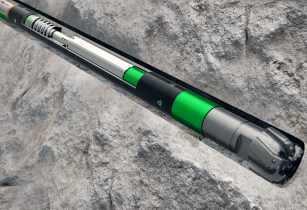 GeoVolve HAMMER is a plug-and-play system featuring an integrated system design approach. (Image source: HydroVolve)
GeoVolve HAMMER, powered by HydroVolve's INFINITY engine, uses percussive impulse energy to fracture the rock ahead of the drill bit, enabling deep drilling into hot, hard rock easier and faster.
The cost of geothermal drilling can account for up to 50% of total well project costs, with the majority of spend due to time spent drilling through difficult rock formations. Drilling through hard rock using conventional rotary methods causes drill bits to wear, dull or break down rapidly after short drilled depths. This results in the need to regularly recover the failed drill bit to surface for replacement, adding significant project time and costs.
GeoVolve HAMMER uses a percussive drilling technique which is proven to speed up the drilling rate of penetration (ROP) in hard rock by up to 10 times or more. GeoVolve HAMMER's percussive drilling method is less damaging to the drill bit, meaning the bit can drill deeper for longer, further reducing equipment-related costs and boosting time efficiencies.
GeoVolve HAMMER is a plug-and-play system featuring an integrated system design approach, which allows it to be compatible with any bottom hole assembly (BHA). It is fully configurable and does not interfere with measurement while drilling (MWD) or steerable systems, meaning it can be deployed without compromising the performance of the other downhole systems.
This system is full-bore, does not induce pressure loss in the BHA, provides real time feedback on drilling performance and can also be deployed in oil and gas hard rock environments and extended reach drilling (ERD) operations.
Dr Peter B Moyes, HydroVolve founder, said, "Delivering technology which accelerates global access to affordable and sustainable geothermal energy has long since been a dream for us, and we're excited to seize this opportunity to help the energy sector dramatically shift the cost of geothermal. Working closely with ZerdaLab to perfect the GeoVolve HAMMER, we're proud to provide a solution to unlock the full potential of geothermal energy and assist the global energy transition."
Vasiliy Zbaraskiy, chief technology officer at Zerda Lab, commented, "Delivering adequate energy to the bit is critical to enabling stable and efficient drilling performance, and to prolonging the bit's life. This is especially important in drilling hard rock applications, such as geothermal."