Blackline Safety Corp, one of the leading gas detection and connected safety solutions providers, will be a featured exhibitor in the Canadian Pavilion at the 2021 ADIPEC Exhibition from 15-18 November in Abu Dhabi, the UAE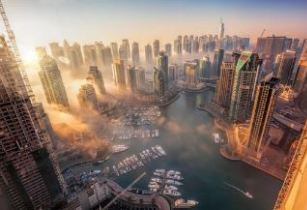 The company will open a new office in Dubai to support international growth initiatives. (Image source: Adobe Stock)
ADIPEC brings together professionals across the energy sector to learn, network and discuss the industry's latest best practices and technologies. Blackline will present its solutions and services that drive safety and enhance organisational performance.
"Over the last 18 months, we have invested in product enhancements and innovations that have helped our customers boost the safety, efficiency and productivity of their organisation," said Cody Slater, CEO and chair of Blackline Safety.
The company has announced a new office will be opening in Dubai to support international growth initiatives. The facility will be fundamental in allowing the business to scale while delivering superior service to customers and distributors in those regions.
At ADIPEC, attendees will be able to preview, in-person, Blackline Safety's solutions, including:
• Blackline Live and Blackline Analytics, award-winning connected safety software that provides proximity messaging alerts to keep people and teams safer in the event of an emergency. Now featuring convenient single sign-on.
• G7 EXO Area Monitor, a portable area gas monitor that offers rapid deployment, configuration flexibility and versatile mounting systems for placement anywhere.
• G7 Wearables, convenient, versatile and easy-to-use wearable devices for personal gas detection and lone worker monitoring with cellular connectivity. G7 wearables offer built-in features including a clock, timer, powering down warnings, false alarm features and non-emergency alert tones.
The G7 EXO, which previously won the OH&S 2021 New Product of the Year Award and gold at INT Design's 2021 GRANDS PRIX DU DESIGN awards, was also a finalist in this year's Best in Show New Product Awards Showcase at the recent National Safety Congress & Exhibition in Orlando, Florida. This product is the first direct-to-cloud connected area monitor with integrated 4G communications and delivers unmatched connectivity and visibility into an entire worksite.
Stand #2460 in the Canadian Pavilion.