AVEVA has partnered with Azule Energy to drive digital excellence throughout the firm's operations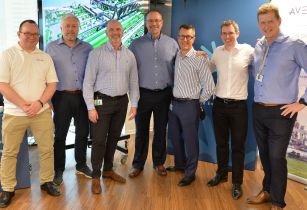 The partnership will help cut the time spent searching for key asset information and improve maintenance planning, among other things. (Image Source: Adobe Stock)
The partnership agreement will enable Azule Energy – a 50/50 joint venture backed by bp and Eni – to reduce costs, improve safety and unlock new production opportunities using AVEVA's cloud, software-as-a-service (SaaS) and digital twin technologies.
Moreover, the partnership will help cut the time spent searching for key asset information, improve maintenance planning, reduce offshore trips and visits, enhance team collaboration and facilitate remote operations.
Azule Energy boasts a strong pipeline of new projects that are scheduled to support the energy needs of Angola's growing economy and strengthen its role as a global liquified natural gas (LNG) exporter.
Digital twin spans entire asset lifecyle
AVEVA will deploy its digital twin software to connect data from every layer of the technology stack for one contextualised, multi-visual experience. In the first phase, AVEVA will focus on existing operations, implementing AVEVA asset information management, AVEVA information standards manager, and Assai Cloud for operations – for two existing floating production storage and offloading units (FPSOs) in Block 18 (Greater Plutonio Development) and Block 31 (PSVM).
AVEVA's digital twin technology is the only solution on the market that spans the entire asset lifecycle. The vendor-agnostic solution is scalable, integrated, and open. It unites engineering and enterprise data to create a true digital backbone that will bring industrial intelligence to Azule's entire team, delivered via the cloud.
Peter Harriman, chief operating officer, Azule Energy, said, "We have signed a strategic contract with AVEVA to digitally transform our operations for optimised productivity, efficiency and safety. This partnership will enable Azule Energy to achieve our goal of establishing a world-class operation."
Caspar Herzberg, CEO, AVEVA, commented, "The move to AVEVA SaaS will empower Azule Energy to innovate and remotely collaborate across teams regarding their FPSO assets. The vessels are located a long distance offshore, which represents a significant challenge to operations. Using data-led insights, Azule's team will be able to breakdown silos and deepen collaboration between onshore and FPSO teams, using their combined insight to streamline processes and accelerate delivery."
Herzberg added, "AVEVA's industry leading visualisation technology will further enable Azule Energy to deliver faster and at scale. AVEVA is the only provider to supply a fully integrated solution that can be developed quickly and reliably. Together, we are committed to providing secure, lower carbon energy to support Angola's sustainable development."