Amarinth has delivered multiple orders for more than 30 centrifugal pumps, including an innovative double entry impeller design, all destined for the Tortue FPSO being built by COSCO at its Qidong boatyard in China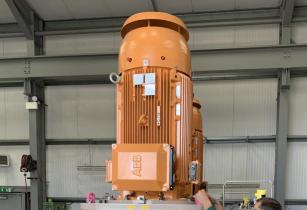 Final checks being undertaken on Amarinth vertical in-line pumps before packaging and shipping to COSCO for installation on the Tortue FPSO. (Image source: Amarinth)
Four orders were placed with the Amarinth Malaysia office totaling more than 30 pumps. The company was selected for its proven expertise designing vertical, horizontal and vertical in-line centrifugal pumps for the restricted headroom, low NPSH requirements and general space constraints aboard FPSO vessels, and for continuity of supply, spares commonality, and single source commissioning.
Many of the pumps were designed to API 610 specifications and a large quantity were manufactured in nickel aluminium bronze. This hard-wearing material is frequently specified in marine applications for its durability to resist cavitation damage in low NPSH environments, low corrosion and oxidation when exposed to sea water and its non-magnetic and non-sparking properties.
The pump duties include:
Sea water ballast pumps to maintain the vessel's stability and equilibrium as the amount of processed liquified natural gas in the vessel's internal hull tanks changes. After careful consideration of the available space within the hull for the ballast pumps, Amarinth designed bespoke compact vertical inline pumps which minimised both the weight and footprint of the pumps and ensured that their height still allowed them to be lifted out for maintenance within the restricted headroom of the decks.
Vital topside process pumps such as for produced water treatment and MEG reclamation. In these cases, the pumps handle highly corrosive fluids and so required total containment Plan 53B seal support systems with double mechanical seals.
Seawater lift duties using self-priming pumps which required substantial MV motors and Plan 53B seal support systems. Amarinth provided its compact vacuum primer units for the pumps and designed a bespoke support frame for the very heavy motor with a footprint to fit the confined space within the hull.
The order delivery had to be aligned to the vessel build programme with supply of pumps between 37 and 43 weeks. Amarinth put in place a turn-key arrangement with a dedicated project team for the design and manufacture in the UK, shipping to Malaysia and then onto China, along with commissioning engineers from Amarinth at the boatyard in China.
All of this was undertaken at the height of the Covid-19 pandemic in Asia but using safe working practices and remote video conferencing multiple times a week with close cooperation between all parties over the 8-hour time difference, the pumps have been delivered to schedule ensuring the vessel build continues to plan.