ABB has launched ABB Ability SmartMaster, a comprehensive asset performance management platform for verification and condition monitoring of instrumentation and field devices in the water, wastewater, chemical, oil & gas, and other industries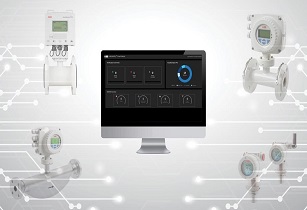 SmartMaster can be used with a range of ABB and third-party instruments. (Image source: ABB)
SmartMaster gathers, analyses and verifies diagnostic data from instruments remotely, without interrupting current measurement tasks.
The platform can be used with a range of ABB and third-party instruments, such as flow meters, level meters, temperature, and pressure sensors. Available as an on-premise or cloud-based solution, SmartMaster sends a valuable fleet level overview from the field straight to the customer's phone, tablet, or other devices.
SmartMaster addresses key challenges for industrial companies such as managing the sheer volume of instruments that are installed on any given plant. Many facilities typically have hundreds or even thousands of devices, some of which may be installed in hard to reach or hazardous areas.
Another big challenge is applications and data running in silos. This limits insights and efficiency of operations. By getting better, actionable insights, industrial companies can see both increased efficiency and environmental benefits.
"Plant operators are expected to increase efficiency as well as become more sustainable and for this, it's critical that each device, each instrument performs optimally in the industrial process," said Amina Hamidi, managing director, Business Line Instrumentation, ABB Measurement and Analytics. "With hundreds of field devices working in the background, optimal performance is impossible to achieve without digital service technology. The ABB Ability SmartMaster connects the physical and digital worlds, ensuring that instruments perform optimally."
The platform offers extended possibilities for device optimisation and maintenance. With SmartMaster, plant operators can access data on instrument status and identify in advance any potential issues that could affect measurement performance or result in unplanned downtime.
This knowledge helps them to plan servicing, spare part orders and device replacement. SmartMaster provides the information as calendar view analysis and an analytical report of failure scenarios.
SmartMaster is part of ABB Measurement & Analytics digital suite of solutions that enable optimised plant operations. The suite comprises ABB Ability Smart Device Manager, ABB Ability Verification for measurement devices, and ABB Ability SmartMaster.