In a first for the region, Spectrum's latest 2D Multi-Client survey offshore western Africa has provided a full grid of coverage across the border between Namibia and South Africa in the central Orange Basin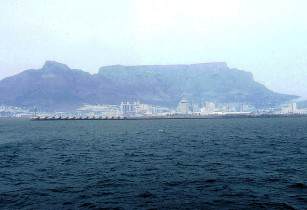 Many experts opine that the oil and gas potential offshore Namibia and South Africa is yet to be fully realised, while new exploration technologies and new seismic are rejuvenating this margin. (Image source: Robert Cutts/Flickr)
The 3,500 km survey completes the second phase of a 6,000 km seismic programme linking key wells and discoveries on either side of the border.
According to a release by Spectrum, many experts opine that the oil and gas potential offshore Namibia and South Africa is yet to be fully realised, while new exploration technologies and new seismic are rejuvenating this margin. Results from wells drilled by HRT provide a proven, working source in the area, which supports evidence from abundant oil seeps, basin model studies and high resolution 2012–2015 seismic.
The new programme by Spectrum has come as a result of collaboration between the seismic imaging company and the respective hydrocarbon authorities in the region, Namibia's NAMCOR and South Africa's PASA, both of which have active and on-going offshore exploration opportunities. Spectrum is now able to offer over 65,000 km of high-quality, modern 2D Multi-Client seismic from the Orange to the Namibe Basins following extensive long-offset acquisition programs between 2012 and 2015.
Spectrum has also acquired over 30,000 km of new long offset 2D seismic within the Luderitz and Orange Basins offshore both southern African nations.
All data is processed through full PSTM and includes angle stacks and AVO products. Over 10,000 km has also been processed through a full Kirchhoff pre-stack depth (PSDM) sequence, Spectrum sources said.
In addition, over 30,000 km of high-quality legacy 2D Multi-Client seismic offshore Namibia is available from Spectrum in eight individual surveys. This vintage data includes a 1989 regional survey, a 2003 prospect-specific survey acquired in the northern Walvis Basin and a comprehensive suite of surveys around the Northern Orange and Luderitz Basins.