PGS has released the first data from its MC3D multiclient survey undertaken in Ghana's Tano Basin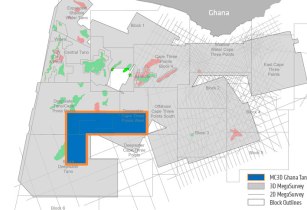 Down-dip reservoir analogues of the 2019 Afina-1X discovery are well imaged in the data. (Image source: PGS)
The company said fast-track 3D GeoStreamer data from the latest PGS MultiClient seismic survey in Ghana reveal Cretaceous targets and Afina-1X reservoir analogues in the Tano Basin.
The 2019 GeoStreamer survey targets the Ghana Tano Basin, a transform margin exploration hot spot, providing the first-ever MultiClient 3D broadband data offshore Ghana.
The Upper Cretaceous play is the focus in the Tano Basin with deep marine stacked turbidite channel and fan complexes providing excellent reservoir potential in the Cenomanian, Turonian, and Campanian. GeoStreamer data with FWI velocity model building and AVO compliant prestack data will allow explorers to significantly derisk deepwater exploration in this prolific basin.
"The survey took an integrated approach to acquisition and imaging of the Upper Cretaceous play, combining the benefits of GeoStreamer broadband technology and the latest imaging workflows. Down-dip reservoir analogues of the 2019 Afina-1X discovery are well imaged in the data," said Joshua May, new ventures manager for Africa at PGS.
PGS provides seismic images and 3D data describing the subsurface beneath the ocean floor that oil companies rely on to find oil and gas reserves worldwide.