PGS has increased regional coverage of its Congo Vision dataset by targeting deepwater open acreage and facilitating an improved understanding of the prospectivity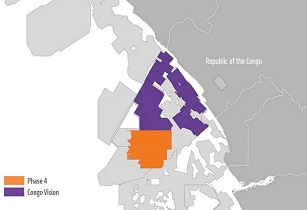 Congo Vision now comprises a contiguous volume of nearly 13,000 sq km. (Image source: PGS)
The latest phase expands Congo Vision to the south, along strike from significant Angolan fields in the core of the Congo Fan depocenter.
PGS in partnership with SNPC have completed a fourth phase of reprocessing of the Congo Vision project, adding over 3,900 sq km rejuvenated 3D seismic to create a regional dataset, and covering open blocks Marine XIX and Marine XXX.
Final pre- and post-stack deliverables are now available for immediate licensing.
Congo Vision now comprises a contiguous volume of nearly 13,000 sq km broadband processed KPSDM data across the shelf and deep water, offshore Congo. Legacy datasets have been fully reprocessed with considerable uplift in data quality.
Modern imaging workflows have been used to create a seamless 3D seismic dataset that reveals prospectivity in both pre- and post-salt stratigraphy.
Acreage included in the fourth phase of Congo Vision has previously yielded Upper to Lower Miocene discoveries, and the rejuvenated data images inboard Albian and pre-salt fields. Congo Vision provides the means to further evaluate exploration opportunities with confidence, at both play and prospect level.