The Ministry of Petroleum of South Sudan announced the launch of exploration efforts in the country's Block 2 during the South Sudan Oil & Power conference in Juba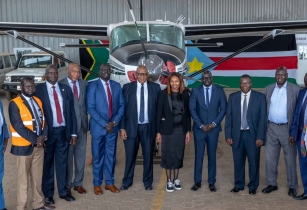 South Africa's Strategic Fuel Fund (SFF) kickstarts South Sudan exploration with aerial contract. (Image Source: Energy Capital & Power)
The announcement follows the signing of an agreement that would see the Strategic Fuel Fund (SFF) utilise one of South Sudan's geophysical planes to conduct aerial surveys, thereby kicking off a highly anticipated upstream programme in a country rich with untapped acreage.
"The Ministry of Petroleum purchased a physical plane which we struggled for three years but finally, we have it in the Republic of South Sudan. We have officially launched the plane to start the work of Block 2. Strategically, the SFF will commence their work on Block 2. Block 2 is now online and it will work. It will be historical," Puot Kang Chol, Minister of Petroleum of South Sudan, stated.
The SFF and Nilepet inked the contract at a ceremony ahead of the SSOP conference. Leveraging the strong bilateral cooperation that has existed for years between the two countries, the contract will enable the SFF to acquire new data in an environmentally sound manner through aerial mapping.
"South Sudan is endowed with a lot of resources, and this aircraft will make this evident," stated Nilepet managing director Bernard A Makeny. "We are sending the message to the world that South Sudan is open for investment. South Africa and South Sudan will generate the resources needed for both countries."
The SFF currently has interests in South Sudan's lucrative Block 2 and is eager to expand its contribution and role in the country's energy sector even further. For the company, South Sudan's energy opportunities have the potential to introduce new supplies that the energy-starved South African market so desperately needs while for South Sudan, the SFF's contributions to the market are key for maximising untapped resources on the back of regional cooperation.
SFF CEO Godfrey Moagi said, "This is history. We will now go look for oil, and we cannot thank our governments enough for giving us the opportunity to do this project and for pushing us to make sure we move ahead."
The Ministry of Petroleum acquired the two geophysical planes in April 2021 with the aim of expanding aerial data and seismic investigation. Under efforts to bolster exploration and unlock the full potential of the South Sudanese market, the planes have enabled the Ministry to quantify the country's resources – estimated at 3.5 bn barrels, the third-largest in sub-Saharan Africa.