Lekoil has announced that it has commenced 3D seismic activity in Oil Prospecting Licence (OPL) 310 offshore Nigeria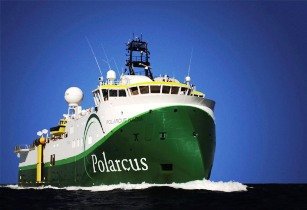 MV Polarcus Nadia is a 12 streamer 3D/4D seismic vessel. (Image source: Polarcus)
The Polarcus vessel MV Polarcus Nadia is currently acquiring data in areas adjacent to the Lagos shoreline.
The 3D programme will cover an area of 1,505 sq km, representing around 80 per cent of the acreage within OPL 310, according to the company.
The new data acquisition will be completed in Q2 2014, Lekoil added.
Lekan Akinyanmi, CEO of Lekoil, said, "The survey will cover almost the whole of OPL 310, including the provision of better resolution on the area covered by the original 3D over 15 years ago. The survey will provide key data that will enable us to refine and de-risk the other prospects in the block that were identified by dated regional 2D. It will also provide valuable reservoir characterisation and definition information."
Following completion of the 3D acquisition, processing and evaluation, partners — Lekoil, Afren and Optimum Petroleum Development — will use the data to high grade and de-risk opportunities in the OPL 310 acreage surrounding the Ogo discovery. The partners also intend to drill an appraisal well on Ogo in the second half of 2014, ahead of development planning, the company added.