STATOIL, BP AND Sonatrach sign US$1.15bn engineering, procurement and construction (EPC) contract with Petrofac International (UAE) LLC in Algiers for the execution of the In Salah Southern Fields development project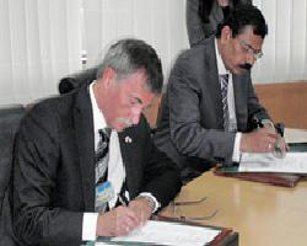 STATOIL, BP AND Sonatrach sign US$1.15bn engineering, procurement and construction (EPC) contract with Petrofac International (UAE) LLC in Algiers for the execution of the In Salah Southern Fields development project
The EPC contract is part of the phase two development of the In Salah license. For Development and Production International the project marks an important step towards maturing barrels for profitable production.
The three gas fields – Krechba, Teg and Reg – located in the northern part of the license, were initially developed in phase one, with the objective of delivering a production profile of nine billion cubic meters of gas annually. This phase started in late 2001, and first commercial gas was delivered in July 2004.
Based on the expected decline of gas production from these three fields, phase two of the development has now implemented to maintain the production plateau and sustain long-term gas sales commitments. It consists of four gas fields – Garet El Bifna, Gour Mahmoud, In Salah and Hassi Moumene – in the southern part of the license.
Facilities
Under the EPC contract Petrofac will build a number of facilities – including well pads, manifolds, flowlines, and a new central processing facility (CPF) with a gas processing capacity of 17 million cubic meters per day. The CPF will be constructed north of In Salah town and tied back to the existing producing facilities located in Reg for further transport of the gas to Krechba CPF for carbon dioxide removal and gas export.
In his speech, Victor Sneberg, Statoil's country president in Algeria, stated his expectation to Petrofac to deliver on time, cost and schedule.
First gas from the Southern Fields development project is expected for the first half of 2014. Gas produced from In Salah is marketed by joint marketing company "In Salah Gas Limited" – an association between Sonatrach, BP and Statoil. The three partners in the In Salah license have investment shares of 35 per cent (Sonatrach), 33.15 per cent (BP) and 31.85 per cent (Statoil), respectively.