Algeria's state-owned Sonatrach and Spanish utility Gas Natural said they have settled a long-running dispute with a deal that involves the Spanish firm paying US$1.897bn to Sonatrach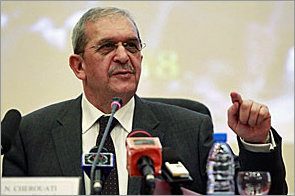 Algeria's state-owned Sonatrach and Spanish utility Gas Natural said they have settled a long-running dispute with a deal that involves the Spanish firm paying US$1.897bn to Sonatrach
The Algerian energy firm will also have the opportunity to acquire a minority stake in Gas Natural as part of the agreement, which draws a line under a dispute over the prices Gas Natural pays for Algerian gas imports.
"This is a very important deal as it puts an end to five years of dispute," Sonatrach Chief Executive Nourredine Cherouati said at a ceremony to sign the deal.
"Our stake in Gas Natural will not exceed three per cent," he said.