Aminex and Solo Oil have announced their intention to farm-out up to 50 per cent of their respective working interests in the Ruvuma PSA in Tanzania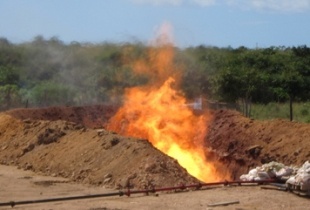 A gas test taking place at the Ntorya-1 well in Ruvuma PSA in Tanzania. (Image source: Solo Oil)
The two companies entered into a Vendor Collaboration Agreement that has led to investment bank FirstEnergy Capital's appointment to manage the farm-out on the PSA, which covers an area measuring 6,079 sq km on Tanzania's border with Mozambique.
Solo and Aminex discovered gas at the Ntorya-1 well in the Ruvuma PSA earlier this year and an independent technical evaluation has since attributed a total mean unrisked gas-initially-in-place (GIIP) for identified leads, prospects and discoveries of 5.75 tcf within the PSA.
Solo executive director Neil Ritson said, "Solo is keen to seek an industry partner to participate in the next phase of exploration and appraisal in the Ruvuma PSA.
"The recent discovery and the encouraging resource evaluation offer a very high-value opportunity. In parallel, additional infill seismic will be acquired and this will assist us in defining the next well locations."
The Ntorya discovery has been estimated to contain 1.2 tcf of discovered and undiscovered mean GIIP.
Aminex, who acts as operator on the Ruvuma PSA, currently holds a 75 per cent working interest, with Solo holding the remaining 25 per cent.