Cove Energy has announced the completion of the second successful flow test at the Barquentine-1 well, situated at the northern end of the Prosperidade gas complex in the Rovuma Basin Area 1 block, Offshore Mozambique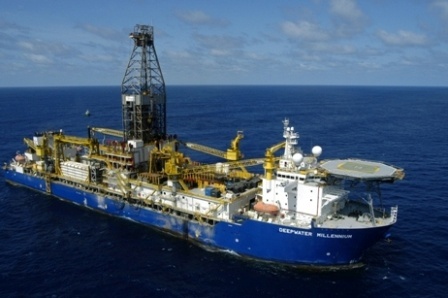 The Transocean Deepwater Millennium drillship, which conducted the second test on the Barquentine-1 well. (Image source: Anadarko)
In a statement, Cove said, "Testing of the Barquentine-1 well flowed gas at an equipment-constrained rate of approximately 100 million cubic feet per day (MMcf/d), with minimal pressure drawdown and targeting a deeper Oligocene sand formation than previously tested Barquentine-2 in March [2012]."
According to the company, data from the test supports the potential for unconstrained flow rates of up to 200 MMcf/d, while the results confirmed the requirements for fewer development wells than the firm had originally planned for.
Cove Energy CEO John Craven remarked, "I am very pleased to announce the continued value being added to the Prosperidade gas complex with the second successful gas flow test from the Barquentine-1 well in Area 1 Rovuma Offshore, re-iterating the high quality gas reservoirs from this discovery.
"We look forward to continuing success from the Prosperidade gas complex," he remarked.
The drillstem test on Barquentine-1 was conducted by the Deepwater Millennium drillship, which the firm said would stay on the Barquentine-1 location for a flow and interference test in a shallower Oligocene sand formation.
Read more:
Cove deal leaves Shell eyeing more in Mozambique
Gas finds fuel further exploration off Mozambique coast
Offshore Mozambique drilling success for Anadarko