The launch of Shell's giant Pearl GTL project in Qatar, a true test of the economics of this technology, could aid Africa's own GTL hopes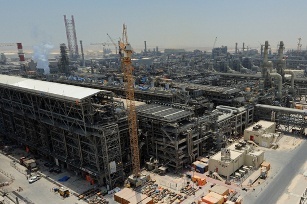 The launch of Shell's giant Pearl GTL project in Qatar, a true test of the economics of this technology, could aid Africa's own GTL hopes
It may be a technology that has been, at least in part, pioneered there, but there is no sign yet when Africa's gas-to-liquids (GTL) ambitions will materialise further
The technology is already proven in Africa, with the semi-commercial Mossel Bay GTL refinery project in South Africa. The 36,000 bpd Petro SA facility turns natural gas piped from offshore into various synthetic fuels for the domestic market.
The state-owned South African company is partnered in the venture by Norway's Statoil. The site, launched in 2004, has long been viewed as a centre for GTL know-how, though it has been overtaken by events overseas in recent years, and indeed, now faces serious gas supply issues.
Qatari leadership
One of the world's true pioneers in synthetic fuels production, Sasol, created what was viewed as the first real commercial-scale GTL plant in Qatar, along the shores of the Middle East Gulf.
The Oryx GTL site opened in 2006, producing a range of clean fuels, far away from South Africa, where the scientists and engineers that conceived it have their offices. The plant has a similar production capacity to Mossel Bay of 34,000 bpd.
But this has now been trumped by an even bigger project, Shell's Pearl GTL plant, also in Qatar, which will produce around 140,000 of GTL products, plus a further 120,000 bpd of natural gas liquids and ethane. This grand undertaking, worth US$18bn, marks the single largest foreign investment project in Qatar, with first gas flowing into the plant in March.
Shell and partner Qatar Petroleum – also Sasol's partner on Oryx – plan to export high value products such as GTL gasoil, kerosene, naphtha, normal paraffin and base oils for lubricants to markets around the globe.
Escravos GTL
Despite the geography, both of these projects are relevant to Africa and its stunted attempts to exploit GTL technology. A project to build a commercial-scale GTL plant in Nigeria - Escravos in the Niger Delta - has hit frequent snags, a victim of the country's uncertain investment climate, security issues and erratic gas supply. The main protagonist in Nigeria's GTL ambitions is US oil major Chevron, though Sasol is also present, while Shell is the nation's largest single foreign investor.
Chevron first floated the idea of building a GTL plant there over a decade ago, but its plans have repeatedly been pushed back. The interest is still there, with Chevron, Sasol, and the Nigerian National Petroleum Corporation (NNPC), providing sporadic updates on progress, or rather the lack of. In 2009, Chevron said that its GTL plans had been delayed until 2012; the following year, this had been put back to 2013.
Given the uncertainties hanging over Nigeria's energy sector right now it seems impossible to give any definitive date when – or if – the project will start up, although the company insists progress is still being made. At last year's World Economic Forum, Sasol chief executive Pat Davies said construction was at an "advanced stage" with completion anticipated by the end of 2012 or early 2013.
Chevron added a little more detail this year stating on its website: "At the end of 2010, site construction was 53 per cent complete."
This would suggest that the 2012-2013 timeline is still a little over ambitious.
Nigerian challenges
But the challenges faced by the Escravos partners are truly immense. The facility is being built on swampland in a remote location, about 100 km southeast of Lagos, which presents significant logistical challenges. Yet this is still familiar territory for Nigeria's oil and gas companies, which are used to operating in tough terrain.
Another major challenge is the financing, which – like Qatar's Pearl project – has spiralled upwards from the earliest estimates of US$3bn to the current cost worth around US$8.4bn. In fact, the technology side is perhaps the strongest aspect to the Escravos facility, with the plant set to use Sasol's Fischer-Tropsch process technology and Chevron's Isocracking technology.
Expectations must be tinged with a degree of realism though, given that the project was first announced way back in 1998. The main construction contract was awarded in April 2005 to a consortium of JGC, KBR and Snamprogetti. To reach halfway stage after seven years, suggests there is still plenty of work – and time – necessary to put the finishing touches to the scheme.
Uncertainty
The initial Escravos plan is to build a plant with a 34,000 bpd production capacity, to manufacture naptha, diesel and LPG. Under the original plans, this could be expanded to 120,000 bpd within ten years although again this should be treated with caution. Chevron has already had its fingers burned in Nigeria with the West African Gas Pipeline.
This project, which pipes gas from Nigeria to neighbouring countries, is now operational but has faced endless problems largely because of unrest in the Niger delta, which has disrupted upstream operations. One of the lessons from Qatar is that GTL facilities require a lot of gas – Qatar holds the world's third largest reserves.
While Nigeria has plenty of gas in the ground, the ability to access these deposits is constrained by all of the usual factors limiting investment and development on the ground, from uncertain security issues, to alterations in the investor landscape. This includes the expected passing of a new petroleum bill that could re-shape the investment climate for foreign oil and gas companies.
Outlook
It may be that another gas-rich economy in Africa might explore GTL options. One of the continent's other big gas exporters, Algeria, has shown interest through its Tinhert integrated GTL but these plans have also struggled to make progress. For now, Africa's hopes of following in Qatar's footsteps would appear to rest largely on Nigeria.
The technology is there, and the money is there if conditions are right, but for now development continues to move slowly. Perhaps Shell's state-of-the-art Pearl initiative in Qatar will inject some much-needed momentum.
With oil and gas prices climbing this too will aid the economics of GTL. But Nigeria's hopes, as always, are probably more dependent on getting its own house in order, promoting stability in the gas-rich delta region, and fine tuning investment legislation to soothe the nerves of major foreign companies like Shell and Chevron.
For all those engaged on the Escravos GTL facility start-up cannot come too soon.