Canadian energy firm Orca Exploration plans to drill a new well in Tanzania this year and expand an existing facility at a cost of $35mn to boost natural gas production at the Songo Songo field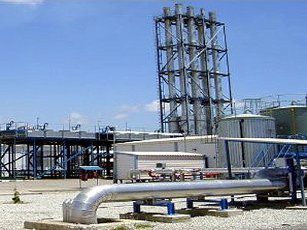 Canadian energy firm Orca Exploration plans to drill a new well in Tanzania this year and expand an existing facility at a cost of $35mn to boost natural gas production at the Songo Songo field - Image credit : Enock Filbert Wolfgang Kalulu
The company said it expected the proposed investment to help it nearly double output to 172mmcfd from 90 mmcfd.
"The company has determined that in 2011, subject to TPDC (regulatory) approval and rig availability a new onshore deviated well should be drilled followed by an enhancement of the (existing) SS-10 well," David Lyons, Orca's chief executive said in a recent letter to shareholders.
"It is anticipated that the capital cost of this programme will be in the region of $35mn and could increase deliverability from the field to 172 mmcfd."
There has been growing demand for natural gas from both thermal power plants and manufacturing industries.
"The company's cost pool in Tanzania may be recovered during Q2 2011 as a result of strong sales revenue and relatively low capital expenditure levels," said Lyons.
The company said it increased its working capital by six per cent during the quarter to $55.8mn.