The Nigerian National Petroleum Corporation signed a heads of terms agreement with UTM Offshore Limited in Abuja on a major floating liquefied natural gas (FLNG) construction initiative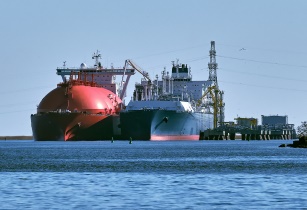 The development marks Nigeria's first indigenous FLNG project. (Image Source: Adobe Stock)
Nigeria's first indigenous FLNG project, the move determines the nation's stand on just energy transition by tapping into its vast gas resources.
Emphasising the development as a 'must-do' initiative for the country, Mallam Mele Kyari, Group CEO of NNPC Ltd expressed the company's readiness to secure gas feedstock towards the project.
Also speaking at the occasion, the Group managing director, UTM Offshore Ltd, Julius Rone, said, "Final Investment Decision is expected to be taken in the fourth quarter of 2023 with planned project start up in the fourth quarter of 2026. When completed, it will produce 1.7 mn tons per annum of LNG and 300,000 metric tons of LPG which will be fully dedicated to the domestic market. The project is estimated to provide direct employment for 3,000 Nigerians and indirect employment for an additional 4,000 people. The LPG produced will help bring down the price of cooking gas, improve the socioeconomic wellbeing of Nigerians, reduce deforestation and carbon emissions."
He further explained that apart from significantly cutting down on gas flaring and supporting the country's commitment to reducing carbon emissions, the project would also create over 7,000 job opportunities, contributing to the nation's economic growth and development.
NNPC Ltd.'s executive vice president, Gas, Power & New Energy, Mohammed Abdulkabir Ahmed, said that the project aligned perfectly with NNPC Ltd.'s goals of ensuring energy availability, affordability, and sustainability while also generating revenue through exports.
According to media reports, the FLNG vessel is set to produce 176 mn cu/ft of gas per day from the Yoho Field. The agreement lays out the terms of the NNPC's 20% equity contribution of the FLNG project. The facility is expected to be complete by 2026, and comprises a turret mooring system, gas pre-treatment modules, LNG production modules, living quarters, self-contained power generation and utilities alongside storage and offloading.