Oil companies must stop flaring gas by the end of this year or face a fine according to a draft of Nigeria's new oil bill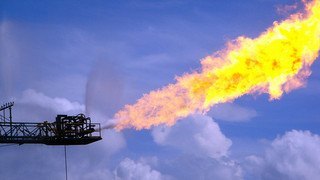 Image source: Wikimedia Commons.
The Petroleum Industry Bill (PIB), which is close to being finalised, says, "Natural gas shall not be flared or vented after December 31, 2012, in any oil and gas production operation, block or field, onshore or offshore, or gas facility.
"Any licensee who flares or vents gas without the permission of the Minister in (special) circumstances [...] shall be liable to pay a fine which shall not be less than the value of gas."
Many industry experts and environmental campaigners believe that the current deadline is too tight and therefore unlikely to be met.
Nigeria flared 30 billion standard cubic feet (scf) in January this year alone, with ExxonMobile responsible for flaring 9.85 billion scf, according to figures released by the country's state oil firm.