Kinetiko Energy, an Australian gas explorer and developer focused on advanced shallow conventional gas and coal bed methane in South Africa, has provided the following update on its onshore gas exploration and production development activities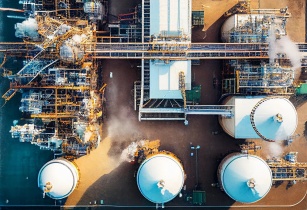 The gas field development will be undertaken in two phases. (Image Source: Adobe Stock)
The Industrial Development Corporation of South Africa (IDC), a wholly owned subsidiary of the South African government mandated to promote economic growth and industrial development in South Africa, has advanced a considerable amount into its joint venture with Afro Energy, the proposed 100% subsidiary of Kinetiko.
Kinetiko CEO, Nick de Blocq, commented, "The involvement of the IDC in our project at an asset level is a manifestation of the Government's confidence in the viability of our transition energy vision. Our current intention is to focus the joint venture we have created with the IDC on the development of producing fields in the southern part of Block ER271, for which we have begun the process of converting to a multi-decade Production Right. With the ability, via this agreement, to expand the IDC's interest in our production plans going forward beyond this initial LNG development phase, the joint venture has become a launch pad to much larger field development."
IDC Funding to Prime Joint Venture Development
Afro Energy has executed a joint development agreement and supporting agreements to jointly develop commercial gas production in the Amersfoort region within Exploration Right 12/3/271. The investment and development will be conducted through an incorporated special purpose vehicle named Afro Gas Development SA (Pty) Ltd (AGDSA Project).
The gas field development will be undertaken in two phases. The first will be the development of approximately 10 wells and the construction of a gas terminal with gas treatment and processing plant, metering station and pipeline gathering system. The second phase will comprise the commencement of gas production from existing wells and the development of a further approximately 10 wells along with the maintenance and expansion of facilities as required.
About 45% of the ADGSA Project's budget will be contributed by the IDC and 55% by Afro Energy. The contributions are to be made by shareholder loans repayable from ADGSA Project gas production revenues.
The IDC has the first right to participate for up to 45% equity investment in any further special purpose vehicles relating to further gas production blocks up to a total of 60 wells.