Global energy major, bp, and its partner in the Cayar Offshore Profond block, Kosmos Energy, are making significant progress on the Yakaar-Teranga gas project, located offshore Senegal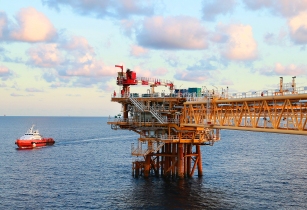 Yakaar-Teranga gas development to kickstart MSGBC power generation opportunities. (Image Source: Energy Capital & Power)
Deemed a follow-up to the bp-operated Greater Tortue Ahmeyim (GTA) project – set to witness first production this year – partners are fast-tracking the development of the Yakaar-Teranga project, hoping to mirror the success of GTA while opening up new opportunities for power generation and industry growth.
Yakaar-Teranga gains momentum
bp is targeting its second large-scale natural gas development offshore Senegal with the energy major making progress towards developing the Yakaar-Teranga project. Currently, a feasibility study for the initiative is underway, with the project partners anticipated to announce a final investment decision for the massive gas development in 2023 with first production slated for 2024. With the Yakaar-Teranga gas development gradually transitioning from an objective into a reality, an opportunity has arisen for Senegal to strengthen the foundation of its hydrocarbon industry while ushering in a new era of economic prosperity on the back of gas-to-power.
Triggering newfound power generation opportunities
Yakaar-Teranga's development is set to position the West African country as a global investment destination of choice, with players across the entire gas and power value chains rallying to grab a share of the country's burgeoning industry and associated sectors. With President Macky Sall placing gas as a key driver of economic stability and energy security, Yakaar-Teranga will unlock new investment opportunities, specifically across the power sector.
The project, for its part, will be developed in two phases, with gas produced set to supply state utility Senelec's power plants, and thereafter be distributed regionally. While the MSGBC region represents one of the most electrified continentally, emerging gas-to-power opportunities made possible through Yakaar-Teranga enable Senegal, and its regional counterparts, to meet national targets of universal access to electricity, thereby improving livelihoods while supplying clean electricity to emerging sectors across the economy. Notably, with the region's mining, agriculture and manufacturing industries rapidly expanding, gas-to-power promises new opportunities for growth. According to the World Bank, Senegal's GDP is expected to record an impressive 8% growth in 2023 and 10.2% growth in 2024, all due to natural gas projects to the likes of Yakaar-Teranga. With up to 20 tn cu/ft of natural gas recoverable for exploitation through 2053, Yakaar-Teranga represents a sustainable energy project that will drive Senegal's economic growth for years to come.
What's next for Senegalese E&P?
Post first oil and gas production in the Sangomar Oilfield and the GTA development in 2023 and Yakaar-Teranga in 2024, Senegal is already working towards expanding the hydrocarbon E&P space even further. With the resources proven and in place, the country is inviting a slate of new players to engage in one of the world's most promising E&P plays. Following the launch of the country's first major licensing round in 2020, with 12 blocks on offer, Senegal's Ministry of Petroleum and Energies is currently planning a second round. This, potential larger round, is expected to see strong interest by current and potential players, as the region's E&P landscape becomes ever-more attractive in the current high-demand global context.
As these opportunities open up, the MSGBC Oil, Gas & Power 2023 – taking place in Nouakchott, Mauritania from 21-22 November, under the theme 'Scaling Energy Opportunities in Africa's New Frontier' – will once again connect investors and E&P players with MSGBC opportunities, providing the ideal platform for project updates – including Yakaar-Teranga -; high-level panel discussions; exclusive networking sessions; and deal-signing forums.