China has donated bio-gas appliances worth over US$160,000 to Ethiopia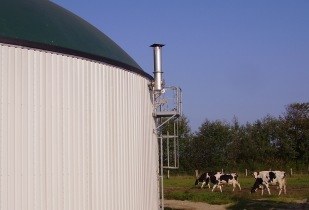 Biogas plant. (Image source: Alex Marshall)
The appliances will be distributed to rural households to provide energy for lighting and cooking.
Chinese ambassador to Ethiopia, Xie Xiaoyan, signed the hand-over certificate with Ethiopian minister of water and energy, Alemayehu Tegenu, during a ceremony in Addis Ababa.
The Ethiopian minister was quoted as saying by China Daily that the government, together with its development partners, plans to construct 70,000 bio-gas plants by the end of 2015.
READ MORE...
More information on biofuels in Ethiopia (Biofuels Digest)
US$188 million Addax Bioenergy project in Sierra Leone
Ethiopia rail project attracts Chinese and Turkish investors