ENI'S  gas discovery at an operated field gets bigger as potential resources off Mozambique boosted by 50 per cent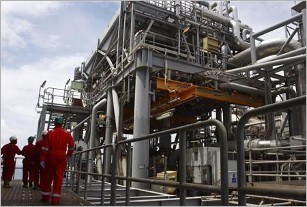 ENI'S biggest ever gas discovery at an operated field has just got even bigger
The Italian major has struck a separate pool of potential gas at its Mamba South 1 prospect off the south-east coast of Africa. The company had already announced its largest ever gas find at an operated play with at least 15 tcf of gas in place in the Mamba South Area.
This has now been hiked by a further half with Eni saying there is the potential for up to 22.5 tcf of gas in place at the play.
"During deepening of the well, it encountered a new separated pool that contains a potential of up to 7.5 tcf of gas in place in clean sands from the Eocene age," a company statement read.
"The new sequence has about 90m of gross gas pay and has also been successfully cored."
The original discovery unveiled a total of 212m of continuous gas play in high-quality Oligocene sands.
Mamba North 1
Eni is now to press ahead with its plan to drill to a total depth of 5000m after which it will drill a second well, Mamba North 1, about 22 km away.
"It is expected that the unprecedented potential of tertiary play existing in area 4 will be further defined in the forthcoming appraisal campaign," Eni continued .
Eni said the resource potential of the well would open "a new eastern front" in its African activities. "These results exceed pre-drill expectations and confirm the Rovuma Basin as a world-class natural gas province."
Eni also said that it plans to build its own LNG terminal in Mozambique to handle gas from the discovery.
"The outstanding volume of natural gas discovered will lead to a large scale gas development with a combination of both export to regional and international markets through LNG and supply to the domestic market."