Energy giant Shell's recently agreed deal to buy Africa-focused Cove Energy for US$1.8 billion has lead it to develop hopes of further expanding its upstream footprint in Mozambique's prolific offshore gas play, according to Shell CFO Simon Henry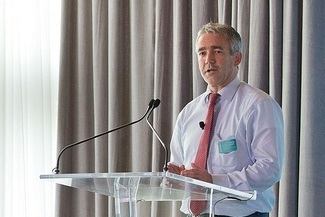 Shell chief financial officer Simon Henry. (Image source: Shell)
As a result of the Cove deal, Shell has become a minority partner with an 8.5 per cent interest in the Rovuma Offshore Area 1 block, where operator Anadarko has already found 30 Tcf of gas.
The resource is expected to support a major LNG export project within the next few years.
"One step at a time, we'd love to be part of a very successful project there... we'd certainly be interested over time in increasing (our stake), but we have to close this first deal first," Henry said.
Henry remarked that Shell could bring financial support and added value to an LNG export project from the block, and has planned talks with Anadarko on the facility, which he said would cost in the region of "tens of billions of dollars".
Shell outbid Thailand's state-run PTT Exploration and Production to purchase Cove Energy providing it with a key foothold in Mozambique's fast emerging gas and LNG export play.