At Africa Oil Week 2023, taking place in Cape Town from 10-13 October, South African Deputy President, Paul Mashatile, claimed that while Africa is recognising the need to reduce carbon emissions this cannot impede its own economic development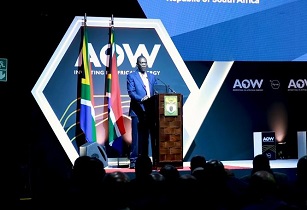 The Deputy President addressing Africa Oil Week. (Image source: Ogilvy South Africa)
The Deputy President made this point as he was delivering a keynote speech at the event which is being held under the theme 'Maximising Africa's Natural Resources'.
He remarked, "Often, we get given resources or money, and we are told we need to transition within a certain period. We must say no to that. We must be able to look at our own needs and to set our own time frames. As Africa, we must keep the lights on during the transition.
"Mineral resources are the currency that drives economic growth. Any conversation about developing Africa's resources must come from the perspective of African nations for their own benefit. We must work to build synergies across our economy to address the stubborn poverty we see in our nations."
He continued that developing oil and gas resources could actually help many African nations achieve the UN Sustainable Development Goals such as securing reliable and sustainable modern energy for all.
"Events like AOW can advocate for Africa to expand its energy sector with effective and sustainable carbon management techniques, so that the energy transition also leaves a legacy of socio-economic development," he remarked.
These sentiments were echoed by Gwede Mantashe, South African Minister of Mineral Resources and Energy, who surmised that while African countries are acknowledging the need for an energy transition, there needs to be an African context to this.
He said, "When you have a situation where 600 million African people do not have access to electricity, we have to put our people's development needs first. The energy transition cannot be an imported concept that does not apply to our African realities.
"We cannot be told how to develop. Africa's growth must be organic, original and African. We need to share ideas and engage on how to embrace the opportunities on the continent."