Angola LNG is to start regular exports of LNG in late June 2012 following the completion of shipping tests due to take place in May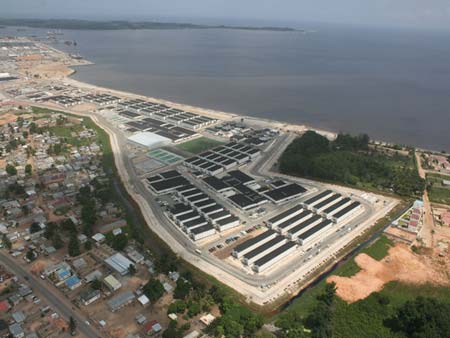 The Angola LNG project is located in Soyo in the north of the country. (Image source: Angola LNG)
According to Angola oil minister Jose Botelho de Vasconcelos, the project will target non-US buyers in Europe and Asia where prices are currently higher.
De Vasconcelos also said that plans by French oil major Total to cut output at its Girassol platform in June would not threaten the government's target to produce an average of 1.8 million barrels of crude per day throughout 2012.
The 5.2 million-tonnes-per-annum Angola LNG project is led by Angola's state-owned oil company, Sonangol, which has a 22.8 per cent stake and Chevron, which holds 36.4 per cent. Eni, Total and BP each hold a 13.6 per cent stake in the project.
The plant, built in Soyo in northern Angola at an estimated cost of US$10 billion, was initially set to start exporting in the first quarter.
"The project is practically in its final phase and we now see the forecast date [for regular shipments] in the third quarter, towards the end of June," commented De Vasconcelos.
De Vasconcelos added that the plant would be officially inaugurated in June.
Angola LNG's plan to turn its focus away from US buyers has occurred in the wake of a rapid increase in US shale gas production brought about by new drilling and extraction technologies, noted De Vasconcelos.
The minister said that while the price of gas in the US market is hovering around $2 per million British thermal units, in Europe it sells for between $6 and $8, and at around $13 in Asia.
Trading sources told Reuters last week that Asian LNG spot prices for May and June delivery exceeded $17 per MMBtu, supported by record demand from Japan, as the world's top buyer increases gas-fired power generation after last year's Fukushima nuclear disaster.
Angola's parliament has unanimously approved the creation of a new unit of Angola LNG specifically to re-direct the sales to new markets.
The new unit, which will be a service provider and will not trade the gas, will market through short- or medium-term spot sales, with the shorter period ones via tender.
According to the revised LNG law approved by parliament, prices for sales to new markets will be agreed for each cargo, in contrast to the quarterly price-setting for shipments to the US.
De Vasconcelos added that, despite average crude output coming in at around 1.7mn bpd in the first quarter, the government was continuing to work towards its target of increasing 2011's average of 1.64mn bpd.
"There are still no signs that we may have to take a new decision in terms of the output for this year," he said.
The government has set an estimated price of $77 per barrel in the budget for 2012.