Anadarko Petroleum Corporation has made another major natural gas discovery offshore Mozambique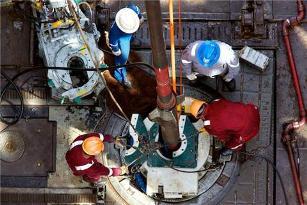 Drillship rig floor, Mozambique. (Image source: Anadarko Petroleum)
The company announced that the Atum exploration well made the significant natural gas find within the Offshore Area 1 of the Rovuma Basin.
The Atum discovery well encountered more than 300 net feet (92m) of natural gas pay in two high-quality Oligocene fan systems. Preliminary data indicates this latest discovery is connected to the recent Golfinho discovery located approximately 16.5km to the northwest in Offshore Area 1.
"The combined success at Atum and Golfinho and apparent connectivity of these Oligocene fan systems, indicate these discoveries represent our partnership's second major natural gas complex offshore Mozambique," said senior vice president for worldwide exploration at Anadarko, Bob Daniels.
"We estimate this new complex, which is located entirely within the Offshore Area 1 block, holds 10 to 30-plus trillion cubic feet (Tcf) of incremental recoverable natural gas resources.
"We plan to immediately commence a four-well appraisal programme of this complex, which has the potential to underpin a large LNG development."
The Atum exploration well was drilled to a total depth of approximately 3,860m, in water depths of approximately 1,000m.
Once operations are complete at Atum, Anadarko and its partners plan to commence appraisal activities. These are expected to be followed by a drillstem testing programme in the Golfinho and Atum complex.
Anadarko President and chief executive officer, Al Walker, said that the total estimated recoverable natural gas resource in Mozambique's Offshore Area 1 is between 30 and 60 Tcf, making the total gas in place for the discovered reservoirs on the block approximately 100 Tcf.
"We still have additional exploration opportunities that could expand the resource potential further," said Walker.
Anadarko is the operator in the Offshore Area 1 with a 36.5-per cent working interest.