Cove Energy and operator Anadarko Petroleum Corporation have discovered a large column of natural gas offshore Mozambique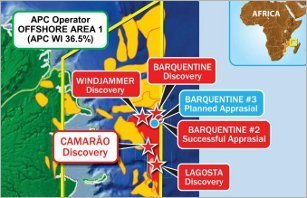 Cove Energy and Anadarko Petroleum have discovered natural gas offshore Mozambique.
East Africa-focused Cove announced that a further 176 m of natural gas had been encountered by the Lagosta-3 appraisal well. The well is located about three km west of the Lagosta-1 discovery well and 15 km south of the Camarão-1 well in the Rovuma Basin Area 1 block, offshore Mozambique. Lagosta 3 is the eighth successful well to drill in the Windjammer, Lagosta, Barquentine and Camarão gas complex, and find high quality gas sands.
"We are very pleased to announce this further successful appraisal of the Lagosta discovery, which not only delivers another significant section of gas pay but also considerably extends the western area of the gas field, adding further confirmation to the 15 to 30-plus TCF recoverable gas resource estimate for the WLBC complex," said Cove CEO, John Craven. "With the second rig now on contract, we are proceeding to drill-stem test the Barquentine-2 well and preparing to drill the Barquentine-4 appraisal well. I am also pleased to see that Eni announced last week, the successful flow testing of their Mamba North well located approximately four kilometres from Area 1 Rovuma Offshore, adjacent to our Barquentine discovery."