Leading oil producing nations in Africa have decided to join major oil producers to stop gas flaring at oilfields by 2030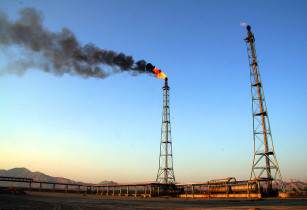 According to the World Bank, nearly 140bn cu/m of natural gas produced with oil is wastefully burned or flared at thousands of oilfields around the world. (Image source: Adam Cohn/Flickr)
The 'Zero Routine Flaring by 2030 initiative' – endorsed by nine countries, 10 oil companies and six development institutions – was launched by United Nations secretary-general Ban Ki-moon and World Bank group president Jim Yong Kim.
The African nations who agreed to stop gas flaring included Cameroon, Gabon, Congo-Brazzaville and Angola. Nigeria, however, remained notably absent from this vote.
In addition to the African nations, Norway, Russian, Kazakhstan, Uzbekistan and France have also endorsed the move. Leading oil producing companies too supported the initiative such as Royal Dutch Shell, Total, Statoil, Eni, BG Group, Kuwait Oil Company, Petroamazonas of Ecuador, State Oil Compnay of Azerbaijan, Societe Nationale des Petroles du Congo, and Societe Nationale des Hydrocarbones of Cameroun.
World Bank-led institutions such as African Development Bank (AfDB), Islamic Development Bank (IDB), the United Nations, European Bank for Reconstruction and Development and Asian Development Bank have also agreed to support the cause.
World Bank group president Jim Yong Kim said, "Gas flaring is a visual reminder that we are wastefully sending CO2 into the atmosphere." Every year, nearly 140bn cu/m of natural gas produced with oil is wastefully burned or flared at thousands of oilfields around the world. According to UN secretary-general Ban Ki-moon, this has resulted in the emission of more than 300mn tonnes of CO2 into the atmosphere – an equivalent to emissions of pollution from approximately 77mn cars.
If the amount of associated gas were used for power generation, it could provide more than 750bn kW of electricity, which more than the electricity consumption capacity of the entire African continent. However, gas is currently being flared for technical, regulatory and economic reasons, since its use is not being understood properly.
As part of the initiative, Jim Yong Kim said the listed organisations would publicly report their flaring activities and work towards the target of inhibiting gas flares by 2030 – any later could cause irreparable damage to the environment.
However, routine flaring would not take place in new oilfield developments, as governments would provide an operating environment conducive to investments and to the development of functioning energy markets.