The African Export-Import Bank (Afreximbank), has signed a seven-year term loan agreement with Nigeria's Alphaden Energy & Oilfield Limited for the construction of a 20 mn standard cu/ft per day gas processing facility in Bayelsa State, Nigeria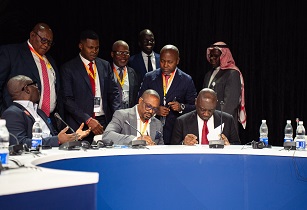 The agreement was signed during the African Energy Week (AEW) 2023 in Cape Town. (Image source: Africa Energy Chamber)
The agreement was signed by Paschal Anyanwu, CEO of Alphaden Energy & Oilfield Limited, and Rene Awabeng, director and global head of client relations at Afreximbank, during the African Energy Week (AEW) 2023, organised by the African Energy Chamber (AEC) in Cape Town.
"We all believe that gas is going to play a leading role in how we develop Africa's energy security," said NJ Ayuk, executive chairman of the AEC, who was present at the deal signing, adding, "This is going to be a US$60mn energy facility that will be developed by an African company."
The project will be built at the Obama flow station, situated in Oil Mining License 63, and will have the capacity to produce 405 mn tons per day of liquefied natural gas (LNG) and 294 bpd of crude condensates.
"We believe that every little step that we take will help make contributions towards the energy independence of this continent," Anyanwu stated, adding, "This day marks a significant day in this journey, and hopefully there will be more that will follow in these footsteps as we follow those before us."
The facility will be repaid from the sale of condensate gas, which has been secured by six offtakers and will be transported using 20-ton ISO tanks to customers throughout Nigeria's six geopolitical regions.
Poised to reduce gas flaring and generate significant value from Nigeria's natural gas resources, the transaction is very significant for Afreximbank with regards to its commitments to Africa's energy transition.