Rick Perry, US energy secretary addressed Africa Oil Week today on how the US, particularly in regard to the shale oil and gas revolution and developing wind power, can be an example of "freedom and security" for African countries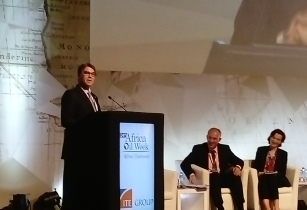 US energy secretary, Rick Perry, addressed Africa Oil Week delegates in Cape Town.
Describing his visit to Cape Town for Africa Oil Week as "in the incredible category", Secretary Perry said the conference was "an opportunity for Africa to reflect and shine globally" and "show the world that innovation and energy offers a better life to the millions of people who call this continent home."
He paid tribute to South Africa for overcoming "tough challenges, social challenges, political challenges, cultural challenges and economic challenges [to] ensure the equality of every human being under the law."
"As America continues to seek a more perfect union ... where people of all origins can find a better life, [America also seeks to] reduce our dependence on hostile fuels for energy," he told the conference, in reference to countries which the US does not consider to be allies.
Secretary Perry said that the US has "become an energy-abundant country" with ambitions to export more oil and gas to countries which he described as "our friends".
"We can export our energy to a growing world ... this is great news for our trading partners around the world," he said. "When you do business with America on energy, you can be assured we will not use that energy as a weapon."
"The US seeks partners across the globe so we can grow together and move head together," Secretary Perry told delegates.
"Today the US leads the world in oil and gas production," he said. "My department is approving applications for natural gas exports as fast as possible, including [exporting] to Africa."
"We will end the dependence on hostile sources [by] exporting to our friends, freeing them - energy is a tool of liberation."
He was critical US energy policy over the past 40 years which he said led the country to "import from unfriendly sources abroad". In particular, he called out price controls on oil and gas and successive administrations "putting regulation first and innovation somewhere behind that" as factors which held back the US in becoming energy-abundant.
"[Governments] were opposed to drilling for it, mining for it, transporting it and selling it [and] poured billions of dollars into energy sources they liked and subsidised companies they favoured," he said. "We had wave after wave of punitive regulation that stifled innovation."
However, he said at state level, innovations in developing energy were taking place. He cited the state of Texas, where he was governor from 2000 until 2015, as an example.
"Texas is a leader not just as an oil and gas producer but in wind energy," he said. "Texas produces more wind energy than five countries - we started at 100kW and now it's close to 15,000kW because we put innovation first."
He said that many industries switching to natural gas and wind power had improved air quality in Texas: "You can have economic growth and do right, if you will, by the environment."
Secretary Perry noted that the IEA reported that carbon emissions in the US had fallen over the last three years, a period which incorporates the last two years of Barack Obama's administration before Donald Trump became president last year.