Zenith Energy Ltd presented an offer for the award of an initial nine-year licence to operate Block 1 containing the Sèmè oilfield, offshore Benin to the government of the Republic of Benin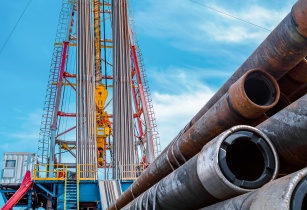 Block-1 is a proven oilfield, with significant unexploited potential. (Image Source: Adobe Stock)
Block-1 is a proven oilfield, with significant unexploited potential, having estimated recoverable reserves (P2) of 22-28 million barrels of oil and 428 bn cu/ft of natural gas (Kerr McGee 2005). It has produced a reported 22 mn barrels of oil to date, with last production in 1998. It has a historical recovery factor of 22%, leaving significant margin for improvement of the recovery factor utilising modern completion techniques, horizontal drilling and improved 3D seismic.
Twenty three wells have been drilled in Block-1, with the last one drilled in 2009 by South Atlantic Petroleum (SAPETRO). This well discovered oil, however, due to the prevailing oil price at the time (approximately US$30) it was deemed uncommercial.
Block 1 is located in shallow water (30 m) offshore with onshore facilities and tank farm for processing of oil production. Discovered in 1967 by Union Oil, Block-1 covers 551 sq km with over 355 sq km of recent 3D seismic data. Significant development and exploration potential in the emerging Syn-Rift play extends from neighbouring Nigeria. Production facilities comprise of three platforms, the last being installed in 2014-2015.
The offer contains specific details surrounding how the company will restore and expand the productivity of Block 1. Specific geological attention will be directed towards developing the emerging Cretaceous Play along the West African coast, which has proven to be a highly prolific basin extending from Côte d'Ivoire, Ghana to the West, to the east in Nigeria, with the large 'Ogo' oil and gas discovery, as well as producing in the Aje Field.
If the offer is accepted, Zenith will progress in completing a rigorous due diligence process and begin negotiations with the ministry aimed at finalising a draft Production Sharing Agreement to be approved by the legislature of Benin (in accordance with the Hydrocarbon Code).
Operationally, following potential acceptance of the offer, the company will seek to use the existing infrastructure installed in 2015, where previous development was stalled due to low oil price environment at the time, to rapidly restore commercial production in the current high oil price climate for the benefit of the citizens of the Republic of Benin and Zenith Energy shareholders.
The company has also presented a comprehensive social development plan, outlining agricultural community engagement initiatives aimed at fostering productivity and local employment, in addition to a sustainable development plan that takes into consideration the natural history of the region.