TAG Oil has provided the following update on drilling progress of the BED4-T100 horizontal well in the Badr Oil Field (BED-1) in the Western Desert of Egypt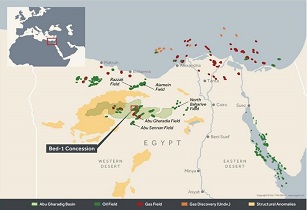 Drilling has commenced from the intermediate cased section at about 2,800 m. (Image source: TAG Oil)
The horizontal build section of the T100 well and approximately 300 meters into the planned 1,000-meter lateral section in the Abu Roash "F" (ARF) target reservoir encountered very good oil shows with high hydrocarbon gas readings and good indications of primary porosity. Initial drilling of the ARF unconventional, carbonate formation performed well at smooth build angles and steadily increasing drilling rates. However, drilling was encumbered by mechanical issues with the directional drilling tools and a minor throw fracture feature at which the Company elected to drill higher in the 50-meter ARF pay zone to go over the faulted section with the aim of increasing the final lateral length of the well.
Drilling has commenced from the intermediate cased section at about 2,800 meters and is projected to be completed in December. The drilling rig will then be released and a rig less well completion phase with fracture stimulation of the ARF will start immediately after. TAG Oil will continue to provide regular drilling updates, as necessary.
The BED 1-7 well has been on production since April 2023 and has reached a cumulative production of approximately 10,000 barrels of oil from the ARF. The well is currently undergoing a build-up assessment of the reservoir pressure to determine the depletion and potential of the well. It will be followed by clean-out operations and then will resume production. The Company is pleased with the results from the well and it provides important data for further development planning of the ARF in the BED-1 field.