Predator Oil and Gas has provided an update on progress towards finalising its drilling operation to enable the MOU-2 well in the Guercif Licence, onshore Morocco, to commence drilling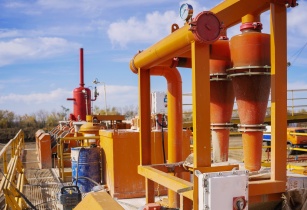 Re-assessing and adjusting the components of the drilling mud system based on the information gathered from MOU-1 is anticipated to afford greater reservoir protection whilst drilling. (Image Source: Adobe Stock)
Currently it is estimated that the well will commence drilling within the first two weeks of December. The exact date will be determined when all pre-ordered drilling materials have cleared Moroccan customs in the coming weeks. Materials have been sourced from Canada, Egypt, France, the UK and the Middle East, reflecting the pressure on logistics and supply chain that the war in Ukraine has created for the larger drilling services companies.
Re-assessing and adjusting the components of the drilling mud system and carefully adjusting mud weights based on the information gathered from MOU-1 is anticipated to afford greater reservoir protection whilst drilling and to facilitate a successful rigless testing programme.
Optimisation of the overall drilling programme by using the MOU-1 experience together with connecting to multiple service providers to overcome supply chain issues has enabled the company to make significant cost savings such that the budgeted cost of MOU-2 remains very close to the final well cost for MOU-1. This is despite the significant increase in the cost of equipment, materials and personnel as a result of challenging global market conditions.
Following initial discussions during this year with a number of parties it is anticipated that the company will sign agreements shortly after the announcement of the MOU-2 test results with certain companies that it has prioritised for gas sales and an initial financing package for a simple Compressed Natural Gas (CNG) pilot development. CNG is easily scalable, unlike a fixed pipeline development, and is attractive for developers of gas seeking a near-term increase in gas revenues.
Paul Griffiths, executive chairman of Predator Oil & Gas Holdings, commented, "We are delighted to have made excellent progress towards commencing the drilling of the MOU-2 well as a result of being able to develop a diverse supply chain to ensure that all drilling materials are available at the well site to enable operating a successful well.
"We are pleased the level of interest being generated within Morocco and amongst those groups seeking gas to address the rise in demand for secure new gas resources.
"We have multiple gas prospects in this area of the Guercif licence for further 'running room' without any requirement to expand our licence portfolio.
"The option to prudently finance further step-out drilling on the back of revenue generation from CNG sales is an attractive business development strategy. However, MOU-2 and MOU-1 rigless testing could potentially confirm continuity of the Moulouya Fan over an area of 30km sq to support a case for the higher end of the net contingent gas resources to the company of 708 BCF, as defined in the independent SLR Consulting Ireland Ltd. (SLR) Competent Persons Report (CPR), (February 2020 and January 2022 'MOU-4' updated). If this were the case the company would not hesitate to initiate a corporate transaction to monetise shareholder value. In the current climate, gas assets attract a significant premium as they can contribute to security of energy supply and the energy transition to help stabilise the near-term cost of energy.'