Neptune Energy announced drilling operations have begun at its operated Yakoot exploration well, located in the North West El Amal Concession in the southern Gulf of Suez, Egypt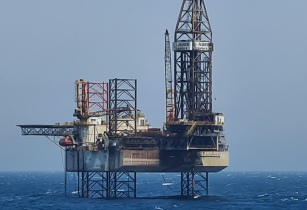 The operation is being carried out with the ADM-8 rig, operated by ADES. (Image source: Neptune Energy)
It is the first operated well to be drilled by Neptune in Egypt.
The operation is being carried out with the ADM-8 rig, operated by ADES, and has a final target depth of around 3,600 m.
Neptune was awarded the exploration licence for the North West El Amal Concession in February 2019, and acquired advanced 3D seismic data in 2020.
Neptune Energy's managing director in Egypt, Alexandra Thomas, said, "Drilling the Yakoot prospect is a significant milestone for Neptune in Egypt and we are grateful for the support of the Egyptian Petroleum Ministry and the Egyptian General Petroleum Corporation (EGPC).
"After many months of careful preparation, working closely with our stakeholders and partners, we are fully focused on safely drilling this strategically important well."
The North West El Amal offshore concession covers 365 sq km and is located approximately 42 km south-east of Ras Gharib and 105 km north-west of Hurghada.