Some of Libya's oil contracts will be reviewed by the country's new government, former interim prime minister, Ali Tarhouni, has said, putting scores of foreign firms on notice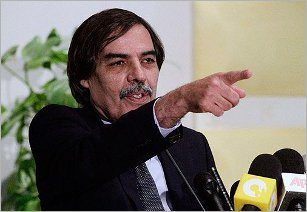 Some of Libya's oil contracts will be reviewed by the country's new government - Former interim prime minister, Ali Tarhouni.
During a visit to Washington, former oil minister and current adviser to the National Transitional Council, Tarhouni, said that some of the contracts agreed by the regime of Moammar Gaddafi would have to be reworked.
"It is my expectation that most contracts will be honoured, but all will be revisited," Tarhouni was reported by Dow Jones as saying. "Some of these contracts will be disputed, there are some that have these gross violations, there are some that are good."
Almost a year after Libya's revolution began, there is still considerable uncertainty about the future of the energy sector and which role long-resident foreign firms will play. Gaddafi's ouster has created opportunities for companies hoping to see a redistribution of oil contracts to the benefit of countries that took part in the military campaign to overthrow the long-time dictator, threatening existing contracts.
Current interim prime minister Abdel Rahim al-Kib issued a statement in December indicating that contracts with Italian energy major ENI would be reviewed, before that notion was dispelled by his office. The transitional government has said that no major decisions, including a reworking of Libya's decades-old oil law, will be made until an elected government is in place.
In the meantime firms like ENI have resumed production. The Italian firm has resumed up to 70 per cent of its pre-conflict output in Libya, of around 200,000 bpd. The company has been in Libya since 1959 and is the biggest foreign energy producer in the oil-rich North African country.
In 2010, Libya's capacity was just short of 1.7mn bpd, according to the International Energy Agency. The country's low-sulphur crude is much sought after by refiners. Libya's oil minister Abdel Rahman bin Yezza recently said that Libya would be back to full pre-crisis production levels in the second half of 2012.