Eni Angola, TotalEnergies and Equinor have submitted bids for Blocks 31/21 and 16/21 in the Lower Congo Basin, respectively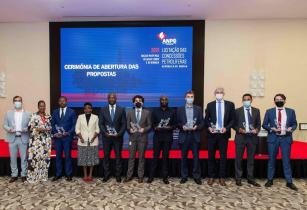 The bidding round was launched in Luanda. (Image source: ANPG)
These Blocks are part of the third bidding round launched by the National Concessionaire for the Lower Congo and Kwanza Basins, on 25 February 2022.
Three of the world's largest oil companies were tendering for two blocks, both located in the Lower Congo Basin, reaching a potential of the initial investment to ensure the execution of the minimum works programme, valued at US$58.6mn.
Eni Angola submitted a bid for Block 31/21, as operator, with a 50% interests, in a partnership with Equinor. This bid featured a US$5mn bonus, with a one-time payment, 30 days after the first oil production in that block.
Equinor, for its part, submitted a proposal for the same block, with an interest of 50%, as a partner, and a bonus of US$5mn, to be paid in a single payment, 30 days after the first oil production.
TotalEnergies presented a bid proposal for Block 16/21, with a 100% stake. The bonus proposed to be paid is in accordance with the volume of production accumulated within the Block's development area, within a range of 0.10 cents of a dollar per barrel of oil if the accumulated production is less than 200 million barrels, and may reach 0.30 cents per barrel if accumulated production reaches a level equal to or greater than 400 million barrels.
Paulino Jerónimo, ANPG CEO, said, "Knowing that the basins in the bidding have been studied and the investors have been able to prove that our business environment is recommended – and that investors recognise it – and that ANPG is a guarantee of dialogue and continuous work with operators and with partners who trust in Angola, it is something that shows us that we are on the right path and that we must commit more and more to boost our oil sector and the contribution to the national economy."
The minister of mineral resources, oil and gas, Diamantino Azevedo, added, "The fact that we have resumed the bidding in Angola, after a long stop, is something that in its time will contribute for the dynamic of the industry and the economy, given that without investment there will be neither new discoveries nor increased production. The fact that we are here gathered to attend the public opening proposals for the third round of bids is already a victory for this entire team that has been committed to execute the national strategy outlined for the sector."