BW Energy has provided an update on the ongoing Dussafu assets operations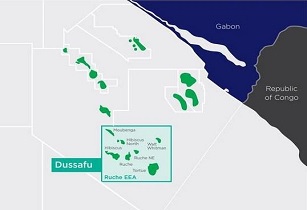 Alternative final casing design is needed at the DRM-3H production well in Ruche field. (Image source: BW Energy)
The company has informed that production has been re-instated from the DHIBM-3H well on electrical submersible pump (ESP). The ESP on the DHIBM-4H well, which has been producing on natural flow, has also been successfully re-started. It is currently working to stabilise production from both wells. The current total Dussafu gross production, with all the Tortue and Hibiscus wells in operation, is in the range from 30,000 to 35,000 barrels of oil per day (bopd).
At the Ruche field, drilling and completion activities on the DRM-3H production well have been temporarily suspended. The well was drilled to a depth of 5,351 m and encountered oil in the Gamba reservoir. However, it has become apparent that an alternative final casing design is needed. The DRM-3H is the longest lateral step-out drilled to date and the company expects to return to complete this well later in the drilling campaign when additional casing material is received. To maximise the use of the contracted drilling rig, the Dussafu partners have initiated drilling of the Hibiscus South exploration prospect (DHBSM-1), located about 5 kms southwest of the BW MaBoMo production platform. Hibiscus South holds a mid-case volume potential of approximately 16 mn barrels of oil in place (with an estimated 7 mn barrels recoverable) in the Gamba reservoir.
If DHBSM-1 contains commercial volumes, the plan is to return to the well and complete it as a production well in early 2024. The ongoing Hibiscus / Ruche drilling campaign is expected to bring total oil production on the Dussafu license up to approximately 40,000 bpd gross when all wells are completed and on-stream.