88 Energy has announced the execution of a three stage farm-in agreement with a wholly owned subsidiary of Monitor Exploration to earn up to a 45% non-operated working interest in onshore Petroleum Exploration Licence 93 (PEL 93), located in the Owambo Basin, Republic of Namibia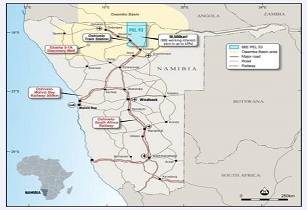 The farm-in agreement provides a staged entry into PEL 93. (Image source: 88 Energy)
Highlights
Farm-In Agreement provides a staged entry into PEL 93, a vast 18,500 sq km onshore acreage position comprising blocks 1717 and 1817 in the Owambo Basin, Namibia.
Namibia represents one of the last frontier oil and gas jurisdictions capable of delivering multi-billion barrel discoveries, as evidenced by the recent Venus-1X offshore light oil discovery.
Exposure to a first-class operating jurisdiction, with a highly competitive petroleum regime.
Farm-In Agreement provides an opportunity to earn a significant working interest with future potential to transition to project operator.
Farm-in to PEL 93 and forward work-programme complementary to 88E's existing Alaskan exploration and appraisal activities.
Partner and operator, Monitor, has deep technical experience with extensive in-country and regional knowledge.
The Licence includes an extensive lead portfolio, with 10 significant independent structural closures identified from a range of geophysical and geochemical techniques. Considerable potential for more leads to be identified as dataset is expanded.
Pathway to potential commercialisation with logical staged work-programme.
Forward programme to include acquisition of ~200 line-kilometres of low-impact 2D seismic planned for mid-2024 and potential initial exploration well targeting the Damara play as early as H2 CY2025.
Farm-in Agreement remains subject to Namibian government and other regulatory approvals, which are expected to be received by Q1 2024.
88 Energy Managing Director, Ashley Gilbert, commented, "The execution of this farm-in agreement with Monitor provides 88 Energy and its shareholders with a fantastic opportunity to earn a significant working interest in a very large scale, highly prospective, under-explored acreage position on attractive and logically staged commercial terms.
"We are very pleased to be partnering with Monitor who will provide a wealth of technical expertise and strong in-country and regional exploration experience. Monitor has completed a systematic historical work-programme that has identified significant large-scale, untested prospects.
"While 88 Energy is continuing its focus on its existing Alaskan North Slope assets, PEL 93 provides a logical expansion of 88 Energy's existing portfolio, with similar scale and potential that our shareholders are accustomed to. The Licence includes an extensive lead portfolio which will provide an increased level of activity and value catalysts throughout the year.
"We look forward to providing further detail on the project including an upcoming activity schedule aimed at delivering an initial program of approximately 200 line-kilometres of low-impact 2D seismic. This will minimise the environmental impact and be used to better define potential drilling prospects for as early as the second half of 2025."