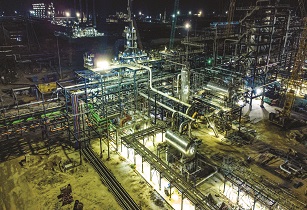 The 650,000 barrels per day (BPD) Dangote Oil Refinery has been commissioned in the Lekki Free Zone near Lagos, Nigeria, in a ceremony attended by President Muhammadu Buhari
---
The integrated project, said to be the world's largest single-train refinery and the largest oil refinery in Africa, boasts 1,100 km of pipeline infrastructure capable of handling 3bn scf of gas per day. The refinery alone also has a 435MW power plant.
The complex has been envisioned as the answer to persistent fuel shortages in Nigeria. According to Dangote Industries, it will meet 100% of the Nigerian requirement of all refined products and have a surplus of products for export (a timely development given the energy crisis currently gripping Europe and much of the world).
On a social media post Aliko Dangote, president/CE of Dangote Industries, thanked the people of Nigeria for providing the support required to get the project up and running. He gave special mention to the President, the President-elect and select governors who helped make it possible.
Sanjay Gupta, CEO Dangote Petroleum Refinery and Petrochemicals, also added on the platform, "Everything in this plant by way of size is the first. It is the largest single-train refinery in the world. There is no single column which can process 650,000 barrels per day anywhere else."
The plant, which took nearly seven years to build, is expected to begin refining crude in June although uncertainty remains over its operational timeline and the supply of crude the facility requires.
To deliver it, a roster of international and local firms were brought together to contribute including the likes of Hyundai Heavy Industries, Sulzer Chemtech, SOFEC, Schneider Electric, Man Diesel & Turbo, Wabag, Mammoet and countless others. All in all, the project has now cost an expected US$18bn but Dangote Industries anticipates the facility to create a market for US$21bn per annum of Nigerian Crude.