Recent Namibian oil discoveries have brought the country to the attention of major global oil companies, with implications that the country may be due for a significant oil boom in the coming years, as outlined by Energy Capital & Power, an Africa-focused global investment platform for the energy sector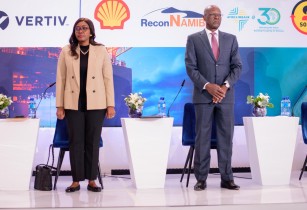 Vertiv, a global provider of critical digital infrastructure and continuity solutions, joined the conference as a Gold Sponsor. (Image source: Adobe Stock)
This optimistic outlook was reflected at the Namibia Oil and Gas Conference held at the Mercure Hotel in Windhoek in mid-August. Vertiv, a global provider of critical digital infrastructure and continuity solutions, joined the conference as a Gold Sponsor.
Vertiv, which is placing a strategic focus on the local mining and other key industries in Africa, presented its commercial and industrial solutions offering at its booth during the conference, where a team of experts from both Vertiv and its preferred local partner, Swakop Electrical Supplies, were on hand to speak to delegates at the event.
The event was hosted by the Economic Association of Namibia, the Namibia Investment Promotion and Development Board (NIPDB) and the Hanns Seidel Foundation (HSF), with the strategic partnership of the National Petroleum Corporation of Namibia (NAMCOR), under the official endorsement of the Ministry of Mines and Energy, Republic of Namibia.
Gary Chomse, strategic segments director - Africa at Vertiv, notes, "The conference presented an excellent opportunity for Vertiv representatives to meet Namibian decision-makers as well as the local business community. This particular sector of the Namibian economy, namely oil and gas, is showing promising growth, which should ultimately bode well for the development of the Namibian economy as a whole."
Vertiv has a strong track record in assisting oil and gas organisations at a global level. Hazardous areas such as offshore oil and gas platforms require special precautions in the installation and use of equipment, and Vertiv has vast experience in understanding the various challenges and identifying the best equipment to be installed in these areas.
"As outlined recently by global management consulting firm McKinsey & Company, oil and gas companies worldwide are leveraging technology and digitalisation in order to remain competitive as well as reduce both carbon emissions as well as costs. Following on from this valuable networking event, we at Vertiv look forward to assisting key players in the Namibian oil and gas industry moving forward," Chomse concludes.
Vertiv's attendees also included Jonathan Duncan, technical sales director, Africa; Bernd Maja, sales director, EMEA vertical segments; and Henry Myburgh, strategic key account manager; as well as Jaco Duvenhage, CEO; Johan Wagner, general manager; and Jason Meszaros, sales at Swakop Electrical.
For more information about Vertiv solutions for industrial applications, visit Vertiv.com