Maixent Raoul Ominga, has issued his support towards African Energy Week (AEW) 2021, confirming his participation at Africa's premier energy event which will take place in Cape Town on the 9-12 of November 2021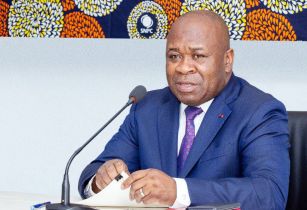 Maixent Raoul Ominga, director general at SNPC to promote the role of national oil companies in AEW 2021. (Image source: African Energy Chamber)
Representing the Congo's national oil company (NOC), Ominga will emphasise the role of NOC's in driving both energy sector and economic success, promoting the Congo's significant investment opportunities and accelerating the country's position as a regional oil and gas giant.
With a role to research, exploit, develop and distribute liquid and gaseous hydrocarbons in the Congo, the SNPC has been instrumental in expanding the country's energy sector. The SNPC was established with the aim of creating a fully-fledged oil company that will, through its technical expertise, develop a major oil industry in the Congo.
The SNPC has seen significant success in this field, with progress made across the upstream and downstream areas. Notably, the SNPC, as a primary participant in all hydrocarbon related activities in the country, has been a key driver in oil exploration country wide, serving as a major participant in all upstream activities and contributing to the country's standing as the third-largest crude oil producer in sub-Saharan Africa.
In addition to upstream activities, and in a bid to accelerate refined product exports and dramatically increase revenue, the SNPC is driving refinery production and development with the existing 21,000 barrels per day (bpd) La Congolaise de Raffinage refinery, and the proposed construction of another 110,000-bpd refinery at Pointe-Noire, advancing the country's production objectives. Accordingly, the Congo is rapidly becoming a force to be reckoned with and the SNPC will showcase this at AEW 2021 in Cape Town.
Meanwhile, as director general of the SNPC, Ominga is committed to enhancing energy sector diversification in the Congo in a bid to spur wider economic growth and development. Notably, the country aims to increase the share of natural gas in its energy mix and has, therefore, prioritised the exploration and production of its significant natural gas resources – estimated at 10 trillion cubic feet. In line with this national objective, the SNPC has established a progressive Gas Master Plan (GMP), aimed at incentivising natural gas development and investment.
Ominga will launch the GMP at AEW 2021 in Cape Town, offering delegates and key stakeholders an inside look at the country's burgeoning natural gas industry. The Congo is well positioned to become a regional gas producer and global exporter, and is focused on attracting significant levels of investment to achieve this.