World energy leaders, government officials, decision makers, and more than 100,000 oil and gas trade professionals from 125 countries are gearing up for ADIPEC 2016, to be held from 7-10 November at the Abu Dhabi National Exhibition Centre (ADNEC)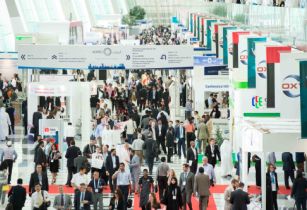 Image from ADIPEC 2015, ADIPEC 2016 is expected to be bigger than ever. (Image source: ADIPEC)
While not an African event, ADIPEC is the oil and gas event of the year. Movers and shakers in energy will address the imminent challenges and opportunities facing the petroleum sector, including the vital need to drive operational efficiency in a rapidly changing energy landscape.
Held under the patronage of the President of the United Arab Emirates, His Highness Sheikh Khalifa Bin Zayed Al Nahyan, and hosted by the Abu Dhabi National Oil Company (ADNOC), ADIPEC will host more than 2,000 exhibiting companies, 8,500 delegates, 700 speakers, and 25 international pavilions, including major oil producing countries, such as the USA, Saudi Arabia, China, and Russia, as well as emerging markets, such as Indonesia, Malaysia, and Spain.
"As the energy sector witnesses a transformation, businesses must adapt their strategies not only to survive today's challenges, but also to create a resilient foundation for what tomorrow brings," said Ali Khalifa Al Shamsi, CEO of Al Yasat Petroleum Operations Company and ADIPEC 2016 chairman.
The ADIPEC Conference Programme, organised in collaboration with the Society of Petroleum Engineers (SPE), will commence with a prestigious opening ceremony, including keynote presentations by H.E. Dr. Sultan Ahmed Al Jaber, UAE Minister of State and CEO of the ADNOC Group of Companies, and Rex W. Tillerson, chairman and CEO of Exxon Mobil Corporation.
Three Global Business Leader sessions will invite CEOs of the world's oil giants to the stage to shed light on critical industry topics, including a world outlook for the oil industry, the developing role of gas and LNG, and effective leadership strategies.
Confirmed speakers include Patrick Pouyanné, chairman and CEO of Total; Bob Dudley, CEO of BP; Vicki A. Hollub, president and CEO of Occidental Petroleum Corporation, and Alexander Medvedev, deputy chairman of the management committee at Gazprom.
The 2016 edition of the ADIPEC Conference Programme will also feature two Global Ministerial Dialogues, with insights from H.E. Suhail Mohamed Al Mazrouei, UAE Minister of Energy, H.E. Sheikh Mohammed Bin Khalifa Al Khalifa, Oil and Gas Affairs Minister for the Kingdom of Bahrain, and H.E. Tarek El Molla, Minister of Petroleum and Mineral Resources for the Arab Republic of Egypt. The Conference Programme agenda also includes eight panel sessions, three breakfast sessions, and three luncheon sessions, and 106 technical sessions.
The ADIPEC Technical Conference Programme continues to witness remarkable growth, having once again broken the world record for the number of submitted abstracts in the oil and gas industry.
Other highlights of ADIPEC include the offshore, marine and heavy equipment zone and conference, the ADIPEC Awards, with winners due to be announced on ADIPEC's opening night, the Young ADIPEC programme and Forum, and the Women in Energy conference on Wednesday 9 November.