ADIPEC 2023 opened its doors today, with a focus on decarbonising current energy systems and to collaborate on new technologies for the future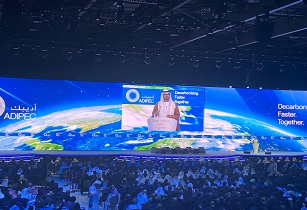 Sultan Al Jaber addresses the audience during the ADIPEC opening ceremony. (Image source: Alain Charles Publishing)
The 39th edition of the exhibition is being held under the theme of 'Decarbonising. Faster. Together.', and is taking place just seven weeks before the UAE hosts COP28. The event is covering energy-related technology, innovation, collaboration, and digitalisation, where leaders from the industry are convening to align on the lower-carbon future of energy.
At the opening ceremony at the Abu Dhabi National Exhibition Centre (ADNEC), Dr. Sultan Al Jaber, president-designate of COP28, said, "We must ensure human prosperity by meeting the energy needs of the planet's growing population. In fact, we need a system-wide holistic transformation of entire economies. Economies that currently run on the equivalent of 250 million barrels of oil, gas and coal every single day. These are barrels that need to be either replaced or decarbonised to create a proper yet responsible pro-climate, pro-growth future. It is a monumental task."
He added that hard-to-abate sectors such as steel need hydrogen technology, CCUs and low-carbon fuels, while explaining that decarbonisation presents a new economic opportunity.
"But there's also a historic opportunity for growth and innovation. It represents the largest economic opportunity since the first industrial revolution. In fact, we already know that this has already actually happened. Clean tech investments reached $1.7 billion last year. A record 40 gigawatts of renewable energy are set to be added to the grid only this year. Electric vehicle sales have tripled in the past three years. And as I've said before, a phase down of fossil fuels is inevitable. In fact, it's essential yet this must be part of a comprehensive energy transition plan. That is fair, that is fast, just, orderly, equitable and responsible. This energy transition must be well managed, and carefully considered."
From 2-5 October, the event is expected to host more than 160,000 attendees from 164 countries. Companies from across the energy ecosystem will showcase the innovations and technologies driving the industry's journey to Net Zero, including direct air capture (DAC), carbon capture, utilisation and storage (CCUS), green hydrogen electrolysers, power-to-x, artificial intelligence (AI) and the Industrial Internet of Things (IIoT).
This year, ADIPEC also includes four specialised areas focused on facilitating cross-sector collaboration: Decarbonisation Accelerator, Maritime & Logistics Zone, Digitalisation in Energy Zone, and Manufacturing & Industrialisation Exhibition & Conference. Industry experts will also be speaking on Decarbonisation, Maritime and Logistics, and Digitalisation in Energy.
Suhail bin Mohammed Al Mazrouei, UAE Minister of Energy and Infrastructure, said, "People are talking about different perspectives on the state of the global economy. We still see oil demand, which is quite resilient. It was the same as it was last year, north of 2.3 million barrels a day. Also, we're quite positive on growth for global demand. Most of that, of course, will be non-OECD Asian countries.
This is why it is important to continue to invest while we try to decarbonise our industry faster. We are in a stage where we are running quite low on spare capacity of serviceability. This requires a concerted effort by all of the stakeholders to see the importance of investing in the industry."