ADIPEC 2023 has come to a close, with the global energy industry delivering a clear message that it is united in its commitment to decarbonise and to fast-track the energy transition, while continuing to meet global energy needs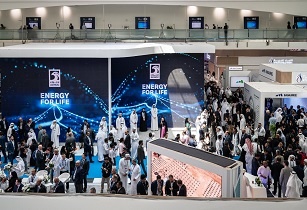 The event achieved a record-breaking attendance of more than 184,000, the largest edition of ADIPEC ever. (Image source: ADIPEC/ADNOC)
The event achieved a record-breaking attendance of more than 184,000, the largest edition of ADIPEC ever.
Building on its nearly 40-year legacy, ADIPEC has evolved, growing in size and reach, as well as reflecting an energy system in transition. Convening global energy leaders and elevating voices from adjacent industries – including finance and technology – to accelerate urgent, collective action and game-changing solutions to decarbonise quicker and future-proof the energy system.
COP28 president-designate, Dr Sultan Al Jaber, opened ADIPEC 2023 by inviting industry leaders to use the event "to show the world that, in fact, you are central to the solution" of fast-tracking the energy transition, assuring energy security while urgently phasing out emissions. Over four days, the entire energy value chain answered his call with more than 1,600 ministers and executives sharing knowledge and developing strategies to future-proof energy systems during 350 curated strategic conference sessions.
As the last major energy industry milestone before COP28 takes place in the UAE next month, ADIPEC focused on the priorities like achieving near zero methane emissions by 2030 and scaling deployment of climate technology to tackle the core challenges of building the energy system of tomorrow – technology and innovation, investment, energy security and more – enabling the industry to demonstrate its commitment to lowering emissions without sacrificing economic growth where it is needed most.
Tayba Al Hashemi, chair of ADIPEC 2023 and CEO of ADNOC Offshore, said, "2023 has been a transformational year for ADIPEC. As we continue to meet the world's growing global energy needs and respond with urgency to the challenges of climate change, a new ADIPEC has emerged, bigger and bolder. This event is uniting nations, industries, businesses, and individuals across the energy ecosystem to take tangible steps to fast-track the energy transition and realise a lower-carbon and higher-growth future. With critical years ahead on the journey to net-zero, ADIPEC has demonstrated the energy industry of today has the knowledge, capital, technology, and skill to be part of the solution to decarbonise and transform our energy systems for the better".
Reflecting the industry's priorities, decarbonisation defined the ADIPEC 2023 agenda, which included critical conversations on achieving net-zero in heavy industries, such as aviation and cement production and how to develop circular economies.
Meanwhile, during a session on asset portfolio models, Olivier Le Peuch, CEO of SLB, said, "This industry, in the leadup to COP28, has recognised that its license to operate will be based on its ability to innovate: innovate for performance, innovate for decarbonisation. Higher value, lower carbon for the future of oil and gas. The industry has recognised this, now it needs to act."
Among a wide range of deals agreed during the event, Baker Hughes announced a milestone electric-LNG award for ADNOC Ruwais LNG export terminal; Petrofac won a US$600mn contract with ADNOC; The Department of Economic Development announced Abu Dhabi will provide 100 investment opportunities with a combined market size of US$33.5bn by 2027; and OXY subsidiary, 1PointFive, and ADNOC signed an agreement to commence a jointly funded preliminary engineering study for a 1 million tonne-per-year Direct Air Capture (DAC) facility in the UAE.
More than 2,200 companies, 30 country pavilions and over 350 curated sessions, ADIPEC 2023 continued to build on its legacy as the ultimate international platform the energy sector.