Lukoil, a Russian multinational energy corporation, has concluded an agreement with New Age M12 Holdings Limited to acquire a 25 per cent interest in the Marine XII license in the Republic of Congo for US$800mn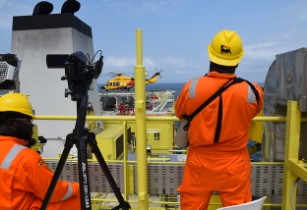 Wood Mackenzie says the production will peak more than 100,000 bpd by 2025. (Image source: Eni/Flickr)
The Marine XII license is based on a production sharing contract. Eni is the project's operator, with a 65 per cent stake. The project also involves the state company Société Nationale des Pétroles du Congo, with a 10 per cent stake.
Vagit Alekperov, president of PJSC Lukoil, said, "Entering this project is in line with our M&A strategy. The project is characterised by explored reserves, substantial production growth potential, access to well-developed infrastructure and it also fits our technological expertise. On top of that, the project is already free cash flow positive."
The Eni-operated licence covers four blocks, including the giant Nene field which came onstream in 2015.
The licence produces 30,000 bpd of liquids, while 60 mmcfd of gas is sold to the domestic power market. According to chemical company Wood Mackenzie, the production will peak more than 100,000 bpd by 2025, with a floating liquefied natural gas development also in the pipeline.
Jean-Baptiste Bouzard, a senior research analyst at Wood Mackenzie, commented, "The deal consideration is US$800 million cash. This represents a 36 per cent discount to our US$1.26bn valuation. This can be explained by NewAge's well-known desire to sell and the development costs associated with complex reservoirs."
"The transaction adds production for the first time to Lukoil's West African portfolio, and fits with the Russian company's aims of developing its offshore expertise and grow its presence outside its Russian stronghold," he stated.
"For NewAge, the sale will free up resources to focus on Etinde in Cameroon, and replenish its exploration portfolio," he concluded.