Sebastião Pal Querido Gasper Martins, Sonangol E.P CEO, announced United Shine as the winner of the construction contract for the gasoline production unit of the Luanda Refinery and also signed a partnership agreement with United Shine for the Cabinda Refinery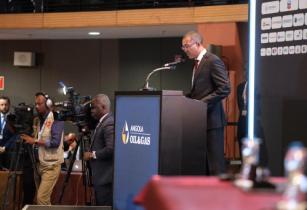 Angola has set objectives to boost its reserves, refurbish the Luanda refinery, improve legislation and increase oil storage capacity. (Image source: Africa Oil & Power Conference)
This was announced during the opening day of the Angola Oil & Gas conference and exhibition, an energy event for one of Africa's leading oil and gas markets.
Organised by Africa Oil & Power and officially endorsed by the ministry of mineral resources and petroleum of the Republic of Angola, day one of the three-day conference opened with a welcome message from Diamantino Azevedo, minister of mineral resources and petroleum of Angola.
"The holding of this conference is presented as an excellent platform for showcasing the vision of the Angolan oil and gas sector," the minister said, adding that such a gathering is "crucial for the economic diversification of Angola. It is an honour and a national achievement to be able to host such a prestigious event that is well attended by the leaders of the African energy industry."
"As Angola works on restructuring and implementing new processes in its energy sector, massive new opportunities in exploration, development and production are emerging. It is our main goal to create an environment that is beneficial to the country and its people first, while also welcoming the entrance of the new foreign business," he added.
The National Agency for Petroleum, Gas and Biofuels outlined the auction process, legislation and financial blocks in a soft launch of the 2019 licensing round – noting opportunities available in E&P and in the Kwanza, Benguela and Cunene basins of the country.
Before announcing the Oil blocks licensing round table tender, ANPG CEO Paulino Jerónimo stated that should the 2025 goal to increase the country's production capacity be met, it will "contribute to the replacement of the existing producing reserves."
President Lourenço emphasised that as Angola is the second biggest oil producer on the continent it "holds an important cause," noting that "Angola imports about 80 per cent of oil products due to lack of domestic refining capacity."
The country has set objectives to boost its reserves, refurbish the Luanda refinery, improve legislation and increase oil storage capacity, while also increasing local content implementation through its energy value chain. The president noted that the Angola Oil & Gas conference would "allow us to showcase to investors the vision Angola has through the topics proposed for discussion."